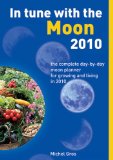 Planting by the moon - it either appeals or it doesn't. Personally, I don't why, if the moon can affect tides, why it shouldn't affect other things too. My suspicion, though, has always been that to get good results you need real application.
For a rundown of just how simple or complicated planting by the moon can be, see The Gardeners' Calendar. It explains the difference between the synodic cycle (which depends on the moon's waxing and waning), the Biodynamic cycle (developed by Rudolph Steiner and more attentive to the zodiac signs) and the sidereal cycle (which takes into account the moon's orbit). You'll also find a daily update on what activity is good in which cycle.
It all sounds pretty confusing, so if you've had any experience (success or failure) of growing by the moon, then do click on Comment below and let us know how you've got on.