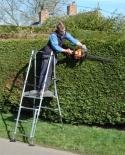 Here's a quick nudge for anyone with a yen for something to aid hedge-cutting or fruit-picking.
Not being very keen on scaling ladders, I've always had my eye on those with platforms that give you a much sturdier base. Henchman specialise in these, their designs having been kicked off in 1994 by owner Tom Kitching's GCSE woodwork project, a hedge-cutting platform.
Unfortunately neither my wallet nor garage space have quite stretched to them. So I just have to remind myself not to stretch too far on a ladder!
However, anyone with a bit more cash than I might like a look at their website. At the end of the summer, after all the fairs and garden shows, Henchman offer demonstration models at marked-down prices and they currently list quite a bit of kit, including aluminium Hi-Step ladders, Compost Tumblers, barrows, log splitter, shredders, waterbarrow and raincatcher tank. You'll have to phone to find out the sale price.
All units are in full working order, with their full guarantee intact. There are only a few of each item available, so don't hang around if you're interested.
If you do miss a bargain, they've also currently got some special web prices on their Hi-Step Ladders (prices start at £325) Tumbler Composters, Water Barrow and Barrow Trailers.