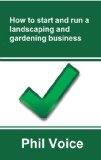 Are you just back from holiday? Contemplating the long run-up to Christmas, with weeks of commuting and office politics?
It was at this time, just as much as New Year, when I used to find myself thinking longingly of another career (before I became self-employed, of course. After that, holidays were something of a dream themselves).  Even a short break can give you the feeling of infinite possibilities and a desire not to return to your current daily grind.
And if you enjoy the healthy toil and plentiful fresh air when gardening or landscaping, then I'll bet you've thought about setting up as a self-employed gardener and/or landscaper.
It does appeal, doesn't it? Your own boss, your own timetable - no toeing the office line, doing damn silly projects that everyone knows are a waste of time. No frustrating commute, stuck in traffic or waiting for leaves on the line to clear.
Hold on, though, what's it really like? 
Going into a new career with your eyes shut is just asking for failure.  So where can you find out more?
Many of the readers of this blog will be familiar with Phil Voice who runs the Landscape Juice website and, with over twenty years' experience of the landscaping trade, has seen plenty of people who thought about the good side, but didn't contemplate how they'd actually run their business.
The premise of Landscape Juice is to help the one-man bands and small businesses who had nowhere to turn for support or information.  Now we've put together
How to Start a Landscaping and Gardening Business
. It's a short e-book that poses the tough questions that you should ask yourself before setting up business, and helps you find the answers. (In case you're wondering about my part in it, I did the editing.)
What does it make you think about? Well, you have to ask whether your dream of self-employment will bring you the income you need. What happens when the weather's bad? Can you hack the business side, however good you are at the job itself?
As Phil writes at the beginning of the book: "There are also many other aspects of a garden business that have to be considered at this important stage and the following is designed to put you off. If it doesn't put you off, there's every chance you're, mentally at least, equipped to get started."

Helping with the sums and giving an insight into the realities you'll have to consider before launching into something that you enjoy only on a casual basis now How to Start a Landscaping or Gardening Business provides a firm foundation on which to make your new career a success.