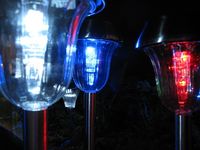 Have you ever wondered how well solar-powered garden lights work, as you've missed a step in the dark and tripped over a wayward flower pot?  Well, over the last few months I've had a chance to find out. 
Four varieties of light arrived at the beginning of October, in time for me to report the results in an article for the Christmas edition of Smallholder magazine. The raised bed looked increasingly bizarre as more and more lights appeared among the beetroot but I put them all together to ensure that the conditions for each set were as similar as possible, and this is the garden's sunniest spot with the longest exposure to daylight.
They've been there ever since, so now's a good time to sum up how they've stood up to the wet weather and are coping with this particularly dreary winter.
Solar Light Features
The four types are:
* These are labelled Gardman by Primrose, but the name on the box is actually Cole and Bright.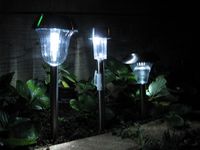 They're set to automatic, which means that they turn themselves on as twilight deepens. At the beginning of October, they came on around 7 pm. This week they've been turning themselves on around 4.45, which is about half an hour after official sunset time.
All can be turned off except the Smart Solar, which instead gives you the option of a steady white light or a rather pretty, gentle colour-changing cycle from green to blue to red.  Of those that can be turned off, only the Bubble Lights have an easily accessible switch that doesn't require the lights to be partially dismantled.  The advantage of being able to switch them off is that they can build up a reserve of power over several days.
The Bubble Lights are also the only ones wired in a string to a separate solar panel. All the other lights stand alone, each containing an inbuilt solar panel.
Continue reading "Product Review: solar-powered garden lights" »