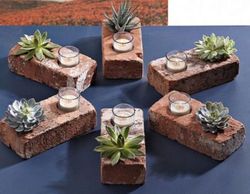 Every so often you come across a design that is so basic that you can't believe it's so attractive (OK, so that's a subjective opinion - as Fred pointed out in CD Difference?), but over at the website of ReadyMade, the demised magazine, Kelly, who runs Succulent Love, a company specialising in designs with succulents, gives instructions for a brick patio planter and tealight that I think is charming. You need an old brick and a drill (and, possibly, a burly man on the end of it), but otherwise it couldn't be simpler.
Kelly fell in love with succulents while planning her wedding, and makes surprising use of them in her bridal bouquet . Possibly it works best in Californian sunshine, but it's stylish. If you're looking for inspiration on how to display your own succulents around the house, there are plenty of ideas in her gallery.
There's also a simple explanation of the regime of careful neglect upon which these plants thrive.