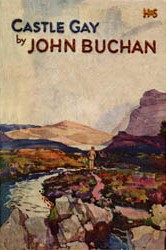 Gardening raises its head in unexpected places. I've been buried in Castle Gay recently. By John Buchan, it's a boy's own type of adventure, set in the Scottish Highlands. Husband likes Buchan very much and, as I'd already disappointed him by not getting enjoying Huntingtower, the previous volume in the three books featuring Dickson McCunn, I had another go.
I was arrested within a couple of pages by the description of aforesaid Dickson, a retired grocer with a thread of romance in his soul:
It was his habit to wear a tailed coat and trousers of tweed, a garb which from his boyish recollection he thought proper for a country laird, but which to the ordinary observer suggested a bookmaker. Gradually, a little self-consciously, he had acquired what he considered to be the habits of the class. He walked in the garden with a spud; his capacious pockets contained a pruning knife and twine...
Now, why, I mused, would you, as an aspiring country gentleman, expect to promenade your paths clutchng a King Edward?  Husband passed me the dictionary. Sure enough, a spud is not a potato (which as slang surely wouldn't have appeared in narrative in 1930) but a "small narrow digging tool with a spadelike blade".
And, I hazard, looking at the enormous amount of long-rooted corn parsley that I've foisted on myself, jolly useful. I went looking.