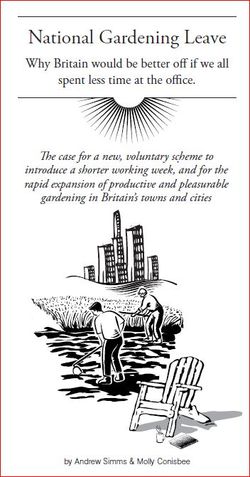 Have you thought that an extra day in the garden each week would be nice? Well, you're not alone. In fact the New Economics Foundation has suggested just that in its recently published paper, National Gardening Leave.
Here's their opening paragraph:
This pamphlet argues that Britain would be better off if we all spent less time at the office. It makes the case for a new, voluntary scheme to introduce a shorter working week. We call this National Gardening Leave. The proposal calls for adapting a wide range of available spaces for the rapid expansion of gardening, both productive and aesthetic in Britain's towns and cities.
I want to like this. I really do.
But what's not to like? It's a proposal that proffers an improved economy, a healthier and happier population, and an enhanced environment.
You've got to support your idea with more than "yes-but" statements: you know, the sort of woolly "facts" that might be thrown into general conversation over the dinner table.
"Settled farming…created time for other expressions of being beyond survival."
So before then, cave paintings drew themselves? And did no one see Bruce Parry's Tribe, which showed the remarkably relaxed lifestyle of the Kombai hunter-gatherers in Papua?
Small point, maybe, but the statement's been considered worthy of inclusion, setting the scene for the main arguments. 
nef
In case you didn't know, nef (note those hey-we're-breaking-boundaries lower-case letters) describes itself as an independent "think-and-do" tank that aims "to improve quality of life by promoting innovative solutions that challenge mainstream thinking on economic, environment and social issues."
Check! Theirs certainly isn't a mainstream proposal.
They are, they say, "unique in combining rigorous analysis and policy debate with practical solutions on the ground."
Hmm. Here's how they present their rigorous analysis on National Gardening Leave.
Continue reading "National Gardening Leave - a nef (or naff?) proposal" »