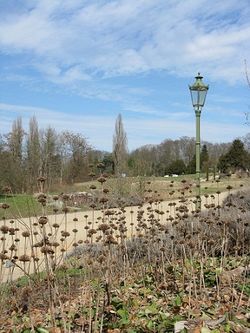 On the 7th day the sun shone (boy, did it shine!) and suddenly the Botanical Gardens beckoned.
Berlin has a superb, fully integrated transport system. A day's travelcard cost €6.40 and covered bus, U-bahn, trams and S-bahn (overground system). Even more impressive, our average wait for the next train/bus etc was around 4 minutes.
Arriving at Botanische Garden station was a bit like arriving at Chiswick - we stepped straight out into that suburban quiet of a sunny day, a small row of shops outside the station, the long walk (around 1 km) to the garden itself. The tall, rather stately Germanic terraces made a characterful contrast to the many high-rise mediocrities of the city centre.
Entrance to the garden is €6 - a bargain compared with the eye-watering £14.50 entrance fee to Kew. The café, in common with all the other museum cafés we visited, and unlike Kew's, was run in a homely fashion, unfranchised, producing excellent fresh, home-made soup and snacks at a very reasonable price.
Berlin Botanical Garden is the second largest in the world (126 acres to Kew's 300) and grows around 22,000 different species of plants. We didn't stay all day as we had a boat trip to get back to, so we took the Spring Tour.  Here's a taste:
Continue reading "Berlin, bare branches and the Botanical Garden Part II" »