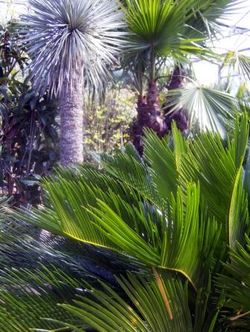 It's Sod's law that, as a blogger, the moment you decide to go "off-duty" and leave your camera at home, you find something you really want to post. (Yes, I know there are phones with cameras. No, I don't want one.)
Leafing through the Garden Design Journal, Husband caught sight of an advert for The Plantation (who says print advertising is dead?) and half an hour later we were on our way to Weybridge, Surrey, to check it out. A ghastly journey put us in the mood to be disappointed. Instead we were wowed.
You know you're in for something special the moment you arrive. Trees in enormous tubs line the drive and exotic foliage tempts you through the nursery gateway. 
My favourite spot had to be the shady plant section, covered in green shade netting and warmly humid. We entered through a small forest of fatsias, cooed over hydrangeas, brushed against the lovely Hauttuynia cordata, and admired a plantation of tree ferns.
Continue reading "Plant nurseries worth visiting: The Plantation, Weybridge" »