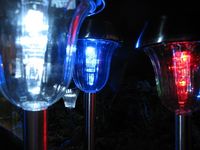 Have you ever wondered how well solar-powered garden lights work, as you've missed a step in the dark and tripped over a wayward flower pot?  Well, over the last few months I've had a chance to find out. 
Four varieties of light arrived at the beginning of October, in time for me to report the results in an article for the Christmas edition of Smallholder magazine. The raised bed looked increasingly bizarre as more and more lights appeared among the beetroot but I put them all together to ensure that the conditions for each set were as similar as possible, and this is the garden's sunniest spot with the longest exposure to daylight.
They've been there ever since, so now's a good time to sum up how they've stood up to the wet weather and are coping with this particularly dreary winter.
Solar Light Features
The four types are:
* These are sometimes labelled Gardman, but the name on the box is actually Cole and Bright.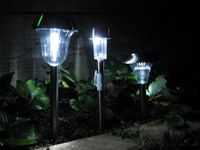 They're set to automatic, which means that they turn themselves on as twilight deepens. At the beginning of October, they came on around 7 pm. This week they've been turning themselves on around 4.45, which is about half an hour after official sunset time.
All can be turned off except the Smart Solar, which instead gives you the option of a steady white light or a rather pretty, gentle colour-changing cycle from green to blue to red.  Of those that can be turned off, only the Bubble Lights have an easily accessible switch that doesn't require the lights to be partially dismantled.  The advantage of being able to switch them off is that they can build up a reserve of power over several days.
The Bubble Lights are also the only ones wired in a string to a separate solar panel. All the other lights stand alone, each containing an inbuilt solar panel.
Wired or Stand-Alone?
The choice needs thinking about. Stand-alone lights can be dotted around the garden wherever you want. The Bubble Lights can't - maximum distance between each light is 105 cms (40 ins). However, the connection between the solar panel and the first Bubble Light could be lengthened with an extension cord, and this means that the solar panel can be placed somewhere it receives plenty of good daylight, whilst the lights are put in a distant corner that never feels the sun and where the individual lights wouldn't receive a good enough dose of light to work effectively.
Solar Light Design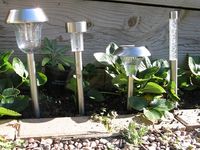 Are you thinking bulb, lantern and not much else? Well, this is true of the Benross Gardenkraft 18100 and, combined with their shorter height, this means their light, though evenly cast on the ground beneath, is quite dim.
Cunning design features magnify the others' output. Smart Solar's design incorporates a separate lens inside the lantern, noticeably strengthening the light and casting it in a decent pool on the ground.
Also cunning is Gardman's Marker Light's moulded lantern. At full strength it casts a good pool of light (though striped with shadow, because of the lantern's ribbed design). As the power dies the moulding focusses the light at the base of the lantern, so that even when the light's too weak to illuminate the ground, it performs as a marker that at least reminds you where you are.
The Bubble Lights are completely different. The light shines upwards into the acrylic wand, which then magnifies it by carrying it along its length. The effect is surprisingly stylish. They are particularly good markers, the downside being that, because the light points upwards, they are not so effective at illuminating the ground around them.
Casualties
If these lights have experienced anything since October, it's been tough, wet weather. Two of the four Benross Gardenkraft stopped working, though I've repaired one simply by taking it apart and putting it back together (I suspect I interfered with some corrosion or, possibly, the small spider that had taken up residence around the wiring); on the other the solar panel has lifted and it's a goner.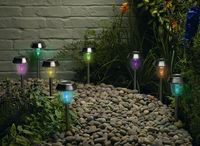 One of the Smart Solar Dual Function lights has given up the ghost and corrosion is evident around some of the terminals.
I think it's reasonable to expect that all of these solar lights will experience corrosion eventually and probably fail. At this price, you can't expect the lights to be totally water- and air-tight. 
Verdict
If you need light late into the evening in dark winter months, you'll be disappointed, but if you need something for early evening, solar lighting could fit the bill. 
Smart Solar (whose colour-changing mode definitely added some festive cheer to the Christmas season) came with a leaflet stating how long you could expect them to run at different times of year. This varies from 4-6 hours in summer to less than an hour in winter. They've actually managed more, passing midnight on sunny days in October. After several dull days this week they struggled by 6.30. Those set to a steady white light had died, while those in colour-changing mode still offered a slightly intermittent, desultory colour change.
By then the Benross Gardenkraft had been dead for half an hour, and the Gardman Marker Light was down to a pinprick.
The best performing by far are the Bubble Lights. They gradually dimmed during the evening, but were still clearly visible beyond 9 pm when the others had gone out or only flashed occasionally. In October they stayed on well after midnight. They're also surprisingly stylish.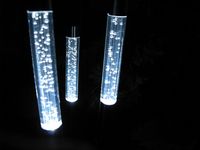 Of course, solar lights are not everyone's idea of good taste. You often see them sprinkled apparently randomly across a lawn, listing to varying degrees.  Not a great look. Garden designers hate them, and they're not very popular with professional gardeners, either, as evident from complaints at the Landscape Juice Network about the difficulties they present when strimming.
If you need to traverse your garden in the dark, however, or guide strangers along a path, some lighting is definitely useful. While these don't shine out with utility-light strength, they remind you where you are, where the path is and that you've reached that step. At full power, light cast downwards is enough to illuminate a step for someone of normal vision. Cheapness to run is less of a consideration now that LEDs have come to the fore for garden illumination, but these still have the advantage of not needing mains wiring.
If you have any questions about the above lights, just add a comment.