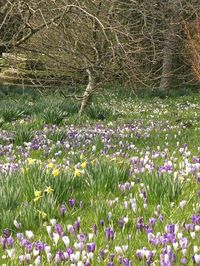 All over the country this weekend, you can hear the crash of doors being thrown open as houses and gardens receive the public.  You may have noticed over the past few years an increasing tendency for properties to run a programme of events throughout the summer season in the hope of luring visitors back for a return visit.
OK, it's understandable, and presumably aims to capture local interest, but it does make a lot of properties seem all the same. Several times over the last couple of years while on holiday we've found ourselves folding and unfolding leaflets, looking in vain for information on why we should visit a particular landmark, beyond its generic procession of Easter Egg hunts, face-painting, woodland craft demonstrations and food fairs that makes it sound just like any other visitor attraction.  The National Trust is particularly prone to this.
Great Dixter also opens for 2013 this weekend.  This hardly needs introduction, as Christopher Lloyd's garden has drawn visitors for decades, but if ever a garden had reasons to return built in, rather than cynically manufactured, it's this one.  
At the moment the gardens are on the cusp of bursting into growth. A carpet of crocuses spreads in front of the long border. Borders are orderly and low-slung, waiting the upsurge of vegetation, while primroses, daffodils, hellebores and snowdrops sprinkle the space. (There's always the debate of whether hellebores should have their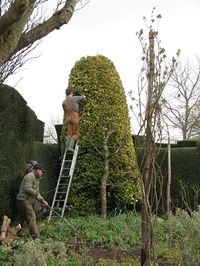 leaves cut away. Here they do because 1) they suffer from unsightly blackspot and 2) it looks good. The flowers do look particularly elegant without them.)
But come back in a few weeks' time and all will look totally different. Head gardener Fergus Garrett is truly a plant enthusiast, even going to the lengths of measuring the width of tulip leaves to pinpoint the perfect choice for his beds, and much attention is paid to finding combinations that will succeed each other easily. In the Sunk Garden, snowdrops are just going over, but hidden amongst them are euphorbias waiting to hide them from view, while the as yet unemerged Rodgersia will add contrast in colour and leaf.
Fergus has plenty of photographs which show how completely a space will change its character: a dry stone wall that is a mass of ox-eye daisies one month may flow with hypericum and bramble another. Plants grow up and through others, fresh foliage and flowers obscuring with startling distinction the plants that have had their time in the spotlight.
Elsewhere long-season cultivars such as Geranium "Russell Prichard" provide a backbone of colour over several weeks or months. amidst a sea of changing pattern. Christopher Lloyd believed that no gaps, showing bare earth, should be visible from late May on, apart from the most recent replacement plantings. Fergus continues to maintain this tapestry effect.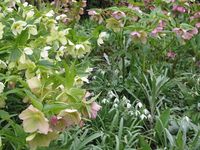 The result is a supremely skilful and, to a degree, educational display. I say, to a degree, because of course this garden is famous for not inserting plant labels. For Christopher Lloyd, Great Dixter was a home before it was a show garden. Now that he's died, I'm inclined to think a few labels wouldn't go amiss (after all, they don't have to be startling white plastic) but there is an army of students and volunteers who, I've found, are extremely helpful to anyone asking questions. Much of what is grown is also sold in the nursery.
Not everyone is lucky enough to live close enough to Great Dixter to make repeat visits feasible through the summer, but if you are it's worth considering visiting regularly through the open season.
If the far reaches of Sussex are just too much of a drive (and sadly the nearest train stations with bus connections to Northiam are Rye and Hastings), then on April 13th 2013 they are laying on a coach service to meet the 10.15 from Charing Cross at Robertsbridge Station, giving you three hours in the garden before returning you to catch the 16.13.
(For more takes on Great Dixter, have a look at Vegplotting, where you'll find a round-up of posts by the bloggers who enjoyed the same day out as I did.)