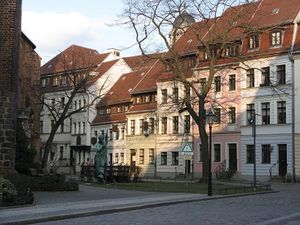 While gardeners in the UK were beginning to enjoy the new season, Husband and I managed to extend winter by almost a week. In Berlin. Not everyone's choice of holiday destination, but it does happen to have one of the world's largest botanical gardens.
Not that that's why we went. Hubs has been itching to visit, having overcome his anxiety, born of too many black and white movies, that he might be arrested and tortured into betraying his underground contacts.
It's easy to overdo the grim stuff. Berlin's recent history is not hidden. The Haus am Checkpoint Charlie, the Topographie des Terrors (Germany under National Socialism), and the enormous Holocaust Memorial were quite enough for one day. When the Stasi Museum appeared on the Things To Do list, I pleaded depression and regained my equilibrium with a concentrated diet of superb paintings (Gemaldemuseum), fascinating architecture (Bundestag) and excellent sausages (everywhere).
Unfortunately spring is even later than it is here (it must always be a bit behind us), and with everything brown, tired or downright dead, it reminded me of the garden of Oscar Wilde's Selfish Giant, where winter never left. There were even heaps of snow in dank, forgotten corners.
Gardening and greenery are just waiting to burst out, though. Our first inkling flashed past us on the way from the airport (no chance for photos). What looked like a very neat shanty town, with various dwellings and sharply delineated plots, was a Kleingarten, a considerably less shambolic version of our allotments. (Ben Knight gives a lovely flavour of Berlin Kleingartens, which comprise over 3% of the city's area, and Sarah Webb describes the serious business of getting a Kleingarten hedge right in Bremen.) And the birdsong that greeted us every day as we left our very centrally placed hotel on Friedrichstrasse was what first alerted me to the fact that there was more nature in the city than was apparent.
Here's some of what we found: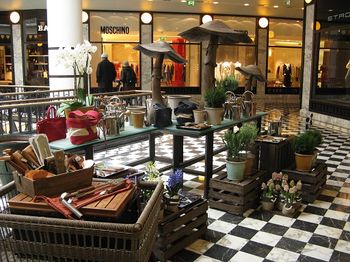 Display of gardening items in the Galeries Lafayette, a shopping centre so gorgeous that even I almost wanted to shop!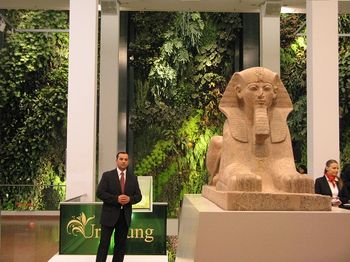 A Patrick Blanc "Mur Vegetal", setting off an unexpected sphinx in the Dussmann das Kulturkaufhaus bookshop.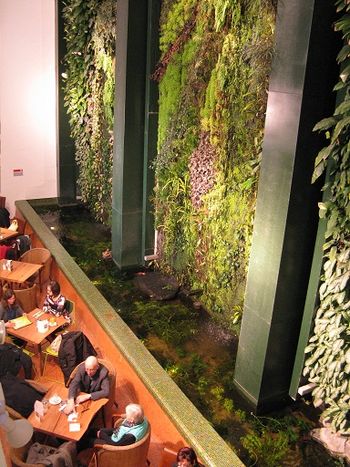 Might have had a coffee here, but it was closed for a private do. Gardening Jules was there at the same time and has some lovely photos.
 Dwarfed by their surroundings, two beehives on top of the Berliner Dom (German Baroque - OK, but not worth the entrance fee, especially if you love Roman Baroque). Part of the Berlin is Buzzing campaign to create "a functioning urban nature and the conservation of ecosystems...and train young beekeepers".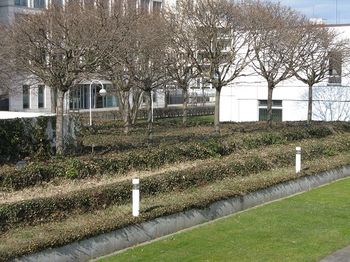 Garden outside the Bauhaus Archiv, Berlin, April 2013
The garden outside the Bauhaus Archiv was sadly brown, tired and dusty. Bauhaus theory for Mies van der Rohe's one-storey court houses decreed that "floor area of the house and surface area of the plot had to form a harmonious relationship, with garden design and planting contributing to it. Garden plan and the interior arrangement of the house had to be interrelated, the views from the often large windows exactly calculated for near, middle and distance vision." This obviously wasn't meant to be a demonstration.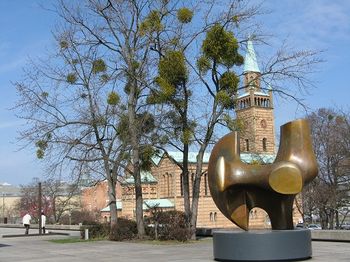 Bare branches weren't all bad. It was easy to see the enormous amount of mistletoe that grows around the city. Here it's outside the Neue Nationalgalerie, with Henry Moore's The Archer.
From fleece-wearing weather it turned in a week to 25 degrees, bringing a hint of green to city trees and the start of spring to the Botanical Garden. More in Part 2.