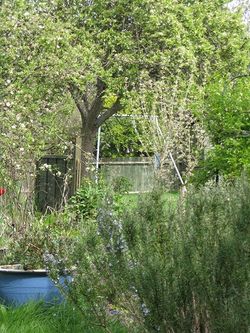 Recent news that fence panels are in short supply was no news to me. We're still staring through gaps where our larch lap used to stand.
Nigel Willmington of Farm Fencing told us that a wet summer in Scandinavia last year had meant that much wood wasn't harvested. Combine that with this winter's belligerant bluster and the result has been, it seems, a surge in stolen fence panels and "black market" prices.  On trade network Landscape Juice, the question Fence Panel Shortage. Anyone suffering? elicited tales from landscapers of having to pay retail prices and being told that their normal supplier wouldn't have anything until...August!
Meanwhile, back at the homestead, we've had ample time to adjust to the garden's (in the wartime expression) "more open than usual" status. On one side, our neighbour's fence has pretty much disappeared. The view from the kitchen has doubled to include their lawn, while through the gap in our fence on the opposite side you see a rather attractive flowering climber scrambling across an old apple tree.
Suddenly we have vistas, spaciousness, the pleasure of next-door's ceonothus. And my proposition? Fences should go, especially tall ones.
Imagine it from a gardening point of view :
No fences to blow down on recently planted raspberries (yes, it happened).
No maintenance and cost.
No solid shadow prematurely cutting half the garden off from the sun mid-afternoon because next door has put in the maximum height allowed.
Free passage of wildlife (and maybe I'd get a slice of the services of the hedgehog that lives two doors away).
Imagine it from a social perspective:
If you needed to talk to your neighbour, you could casually engaging them in conversation over a bit of weeding. No having to ring their doorbell or pop your head over a tall fence - which both feel far more intrusive.
You'd actually see your neighbour. So few people spend much time out front of their houses these days that a sense of community is being lost.
It would discourage that false sense of isolation and the entitlement that some people seem to feel about what they do in their garden.  I'm pretty sure that the neighbours three doors away would think twice about their children's incessant shouting if they could see heads turning in the gardens around them.
And there would be the knock-on effect for wildlife. Given the desire not to give your neighbour an uninterrupted eyeful of your legs bronzing on the sunlounger, you'd probably put in a few shrubs, maybe a couple of trees. No fences would mean more planting, giving some balance to the proliferation of hard landscaping that's dominated garden design in recent years.
Are you convinced yet?
Probably not, because, whatever you might be thinking, I'm not an idiot. Three good reasons exist for barriers between back gardens: thieves, dogs and children. (Next door's toddlers are the reason for the Heath Robinson barrier in the picture.)
So I'll modify my proposition. Fences around back gardens can be up to six feet high. I think the maximum should be four.
Are you groaning? I'm not saying it would be easy to begin with. Human instinct seems to be to hide. Given money and opportunity, we put up big gates and tall fences. But just because we want something, should we have it?
You're probably picturing me as the neighbour from hell - the one who chats incessantly every time you venture outside. Not at all. I have no more wish to do this than most people, and seeing people over the fence when you're not in mood can actually put you off going out. But, the point is, we should and would get over it. Children hide when they don't want to be seen. Adults should be able to say, "Hi, lovely morning," and get on with their tasks.
Of course, I'm not the first person to think this. As briefly mentioned last night in the BBC's new series Everyday Eden: A Potted History of the Suburban Garden, social reformer Henrietta Barnett laid down regulations for Hampstead Garden Suburb which included low hedge heights, partly so that people would be encouraged to talk to each other.
I think she was right. Lower the height of fences, and, I suggest, it would change the atmosphere of an entire neighbourhood.
Down with fences!