"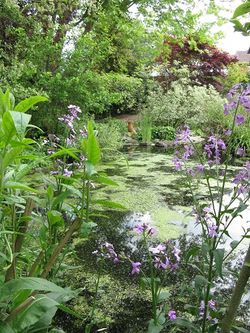 Just as a room without a mirror is dead, so a garden without water is never quite alive."
Of course, you could speculate on the personality that thinks that every room should have a mirror, but the moment I read this in Beverley Nichols' Merry Hall I felt he was right. And what that really tells you is that I've always wanted a garden pond.
Have you got a pond? If not, perhaps Beverley's description of his pond explains why:
It's the sort of thing the Daily Herald will tell you can be dug over a weekend by a not very bright child with a not very sharp spade. I need hardly say that in fact it required an army of workmen and cost the earth.
My fear, exactly. Except I'd be doing all the work.
Positioning a Garden Pond
Still, that was written in the days before butyl liners and pre-formed plastic, and a pond doesn't have to be big. In his excellent book How to Create an Eco Garden, John Walker makes one out of a container 16 ins diameter by 12 ins deep (picture of pond) and suggests putting one in a flower border. 
Personally, I fancy something a bit larger, though. Where to put it?
General consensus recommends a site away from trees (to avoid falling leaves in autumn) and in the sunniest space available to attract the greatest variety of wildlife and ensure that your waterlilies flower well. According to H L V Fletcher (The Feature Garden, 1960), it should also be south or south-west of any shrubs that will form a windbreak against the coldest air.
So, not under the apple tree and not near the back of the house (north-facing). Which pretty much leaves us mid-lawn.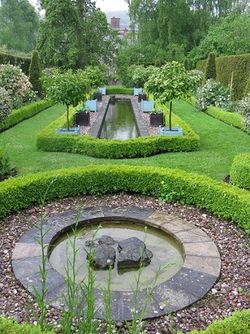 Choosing the shape
Now, formal shape (meaning rectilinear or round) or informal (uneven edges)?
G C Taylor advises in Gardening by Example:
Generally speaking, the formal pool is the type best suited to the well-defined outlines of the small garden. Possibly its best position...is in an axial line with any doors or windows on the garden front of the house, steps, a gateway or archway, or borders.
Sounds plausible, but turn to the photographs and you find that the author's idea of a small garden (book first published 1932 by Country Life) is an expanse that, these days, would be sold to developers for a large housing estate.
Besides, there are enough straight lines in my garden. I'll leave those formal ponds to London courtyards and gardens like the one at Morville Dower House (pictured).
So, we have an informal pond, mid-lawn.
Wildlife-friendly ponds
Water should be deep enough not to freeze solid in winter, and we surely all know now that stones should be placed in the water, allowing amphibians and wayward hedgehogs a way to scramble out.
But how about baked frogs? That's the horrible experience related by Gillian Dunkley in her helpful guide to pond-making. Ensure that there's plenty of vegetation for baby frogs to crawl into when they leave the water for the first time - wide expanses of sun-hot stone just won't do it for them.
Frivolous fountains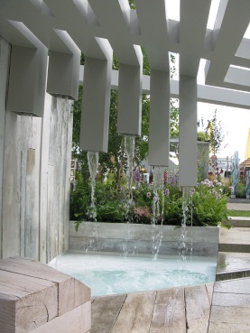 And the finishing touch for me would be a fountain. It adds the lovely dimension of sound (would you happen to know if they draw in wildlife by alerting creatures to the presence of water?) but the downside is that they're not, according to Mr Fletcher, good for plants (which prefer a constant temperature not supplied by sprayed water) and waterlilies in particular, which resent being spat on. His ingenious solution is to create a pond within a pond, with the fountain playing in the central one.
Still, a water feature doesn't have to feature fat cherubs or dribbling dolphins. And I certainly wouldn't want a thunderous waterfall like that in Garden of Solitude at this year's Hampton Court. That Gold-winning design would drown out extraneous noise, but would surely drive your neighbours potty.
A gentle ripple over stones, giving the appearance of a spring is what I'd aim for, to go with the somewhat blowsy, overgrown look of the rest of the garden.
And here's another reason I'm so far pond-less. Because I don't want the hassle of connecting a water feature to the mains.  But pond pumps no longer have to be mains-powered. In fact, the idea of solar-powered pumps rather appeals. No, they're not (so far) as powerful as plugged-in pumps, and even with a battery to store energy they won't work all the time, but the cooling sound of gurgling water is most welcome is when the weather's sunniest, so that's no hardship.
Autumn is a good time to start a pond. Have I just talked myself into it?  If you have experience (good or bad) with ponds, I'd love to hear your advice.
In association with Swell UK.