If you haven't yet made up your mind about which gardens to visit over Open Garden Squares weekend, and are dazzled by the choice, I've drawn up a suggested itinerary of gardens near the Barbican. It's got plenty of variety and interest, good views, and starts and ends near Tube stations. (Map.) 
The Barbican Pop-Up Garden
This is handy. It's right there, at the Underground station, accessible on Circle, Metropolitan, and Hammersmith and City lines.  The first community garden on the Underground, created by a partnership between Friends of City Gardens and Transport for London.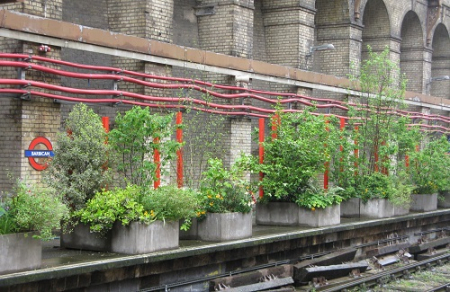 It couldn't be exceptionally ambitious, as everything was carried down the station steps in the dead of night last year - 4 tonnes of soil by 30 volunteers. Obviously it had to be a linear garden - basically you're in a windy canyon and Gensler, the international landscape architect practice, made the most of it with strong red verticals, echoed by the planting that includes multi-stemmed trees and climbers, which aim to reproduce the feeling of a wave as you pass in a train on the opposite platforms.
No need to dawdle, as you can't get any closer, unless you're booked on a tour, but if you want to see it, don't leave it too long; it's scheduled to be dismantled at the end of this year.  
If you're visiting on Saturday, head for The Golden Baggers (if you haven't yet got a ticket, you can get one here).
The Golden Baggers
A community food-growing space set up by residents for residents of the Golden Lane Estate and called "Baggers" because they originally grew in one-tonne aggregate bags.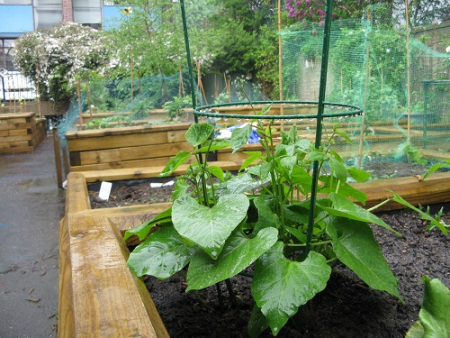 They are now enjoying their successors - beds of Woodblocx, divided into metre squares, acquired with £10,000 from Tesco "Bags of Help" local grant scheme. This naturally gives much scope for square-foot gardening, but you'll find fruit, veg, salads, flowers, a wildlife corner with children in mind, and communal herb garden, and it's been laid out for disabled access. If you think that one square metre isn't a lot, some people actually share a square, but then, there is a waiting list.
If you're visiting on a Sunday, either go straight to Fann Street Wildlife Garden (where you can also buy tickets), or cast your net a little wider and head for...
The Museum of the Order of St John
This cloister garden is planted with medicinal herbs to reflect the work of the Knights Hospitaller. There's plenty going on here, and you could start with a cup of tea from the pop-up café, before meeting beekeepers, taking part in a children's trail, making a soap ball or admiring botanical paintings.  You can also buy tickets here.
All the following gardens are open both days. So now, you can head to...
Fann Street Wildlife Garden
A Site of Importance for Nature Conservation, it has plenty of different habitats, with bee and butterfly friendly gardens, pond and wooded areas. They've recently started a five-year management plan to improve existing biodiversity.
Not far away is...
Beech Gardens, Barbican Estate
This was a somewhat controversial redesign by Nigel Dunnett of what is, essentially a roof garden. It had problems of leakage into the gym below, was renovated, and Barbican residents weren't all in favour of the new look but plenty of gardeners will be.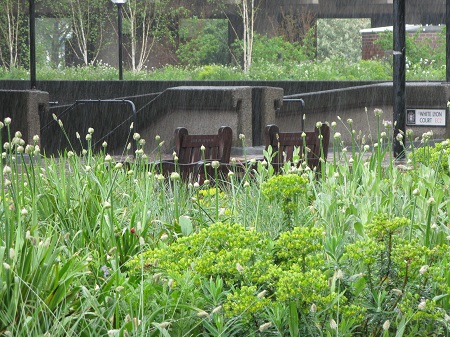 The construction uses the same membrane as the Highline in New York, and incorporates volcanic material to lighten the load. The trees are strategically planted over pillars beneath, which take the extra weight. The prairie planting (which, as you might know, rarely does it for me) is low maintenance, low load and is planned to provide bursts of colour throughout the season.
If you haven't had a break yet, the café at the Museum of London is a good stop-off.
Further down the road is one of my favourite spots in London...
Postman's Park
If you're given to sentimentality, then all you have to do is read the Doulton plaques detailing acts of heroism by ordinary people to have tears welling up. It was much used by postal workers from the old Post Office nearby - hence its name.
After a sniffle, turn left onto Cheapside for...
Eversheds Vegetable Garden
This is great fun, maintained by two women who work in the building. You pass a green roof created with sedum matting to find a sheltered corner of raised beds, stuffed with veg and patio fruit, including apple, orange, lime and pomelo trees.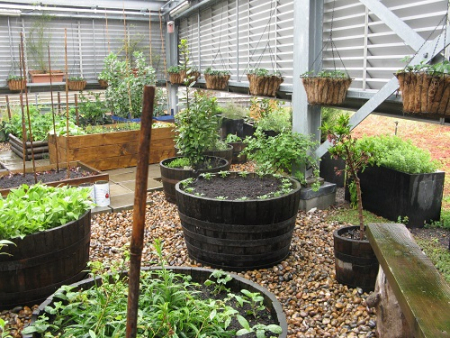 The aim is for unusual plants, and you'll find a jet-black raspberry, saskatoon, edible fuchsia and, this season's novelty veg, Egg and Chips (Thompson and Morgan's aubergine/potato graft).
Where to from here? Well, now might be the time to jump ship on the gardens. The lovely Guildhall Art Gallery is nearby and, if you haven't been, I'd highly recommend it. (Free admission.) Alternatively, head for the river. On the way, you could pop in to...
Cleary Garden
With two terraces and a small lawn, it has vines and aromatic plants to evoke wines from the Loire region, and because in 2007 it became the Loire Valley Wines Legacy Garden.
However, don't dawdle, because you're heading for a big-bang finish with...
Nomura International plc
A huge sixth-floor terrace with a panorama of the Thames.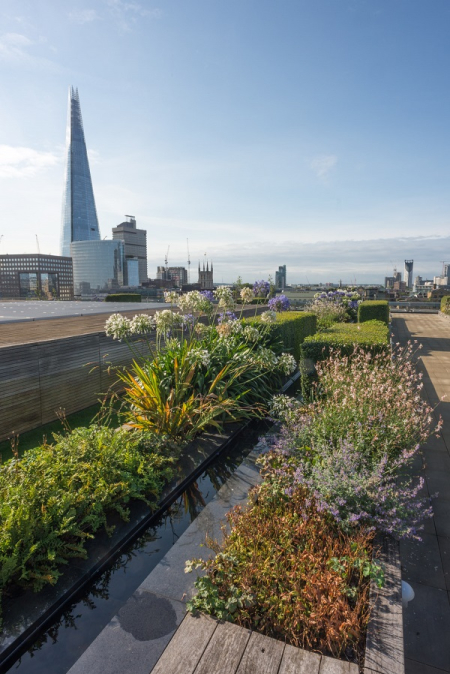 Started much in the same way as Eversheds, by a worker in the building, its potential was spotted by Management and it now offers formal gardens with water features, hedges, shrubs and lawns professionally maintained. A kitchen garden of 12 beds is looked after by volunteers, supplies the building's chefs, and its surpluses are sold to staff for charity.
And personally I'd finish there. Cannon Street tube on the Circle and District lines is nearby. Though, if you're still up for more walking, you could cross the Thames to Southwark or the Tate and sink gratefully into a seat at one of their cafés.
Have you found a good route around the Open Garden Squares Weekend? Do comment below and let us know.
You might also like How to Get the Most out of Open Garden Squares Weekend.