Isn't this gorgeous? I'm so proud of my £5 find at the local annual plant sale. I've been waiting all summer to see what it does. I was promised an unusual camellia that blooms from October to Christmas, and it's swung into action right to schedule.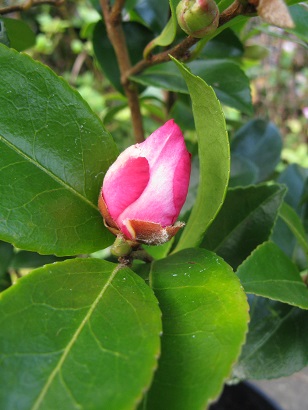 And the flowers retain a pink edge as they open: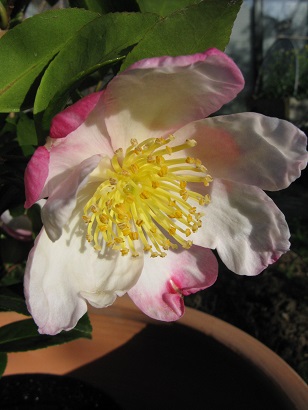 It's even got a delicate scent. Even better, it had a label and I know which one it is: Camellia sasanqua 'Rainbow'.
According to Noel Kingsbury's article on How to Grow Camellia Sasanqua, it will take more sun than other camellias, but still does best against a west or south-facing wall with shaded roots.
Now all I have to do is find the perfect spot in the garden. And you know how hard that is to get right. 
To see what else is blooming around the world this month for Garden Bloggers' Bloom Day, visit May Dreams Gardens.