Art inspires art. Pictures have been inspired by music, sculpture by dance, poems by gardens, and at RHS Chelsea this year, there'll be an Artisan garden inspired by Samuel Coleridge's poem This Lime Tree Bower my Prison.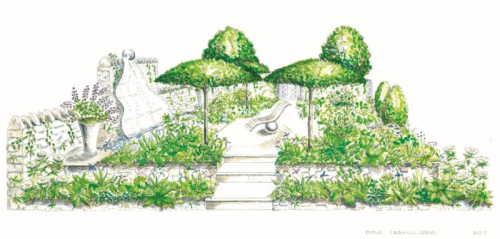 Today is World Poetry Day, so what better moment to mention that visitors to the show will be encouraged to lick their pencils (metaphorically, if not literally) and jot down a micro-poem inspired by Fiona Cadwallader's Poetry Lover's Garden or, indeed, any of the displays around them.
Twitter, Facebook and Instagram contributions will be encouraged with the hashtag #CFSpoet, or you'll be able to post directly onto Fiona Cadwallader Designs Facebook page. For those with a real pencil, there'll be a poem pot ready to receive on site and each day Fiona will select her Poet of the Day from all the entries.
I suspect Coleridge is almost better known for his presence in BBC Radio 4's comedy The Wordsmiths at Gorsemere - where as Cholericke he joins Lord Biro, Percy Jelley and the Wordsmiths in a delicious parody of Romanticism and the Lakeland poets - than for his poetry these days.  That, or the story of his losing the ending to Kubla Khan when interrupted by a "person from Porlock". What writer can't imagine the agony of that?
This Lime Tree Bower my Prison was written by Coleridge when he was forced to stay at home, under a lime tree, while his friends took a walk which he was unable to share, having been temporarily incapacitated by his wife pouring boiling milk on his foot.
Instead, he imagines the scenes they see, and enjoys his own situation:
Nor in this bower,                                                  

This little lime-tree bower, have I not mark'd       

Much that has sooth'd me. Pale beneath the blaze

Hung the transparent foliage; and I watch'd          

Some broad and sunny leaf, and loved to see

The shadow of the leaf and stem above

Dappling its sunshine! And that walnut-tree

Was richly ting'd, and a deep radiance lay

Full on the ancient ivy, which usurps

Those fronting elms, and now with blackest mass

Makes their dark branches gleam a lighter hue

Through the late twilight…
Fiona Cadwallader says, "I studied Coleridge's work at university and This Lime Tree Bower My Prison made a big impression on me, as the poem echoed my own belief that everyone has an innate appreciation for nature."
She's slightly more optimistic than I am with that opinion, especially when you look at the various town planning schemes that get the go-ahead, but she adds that gardens can be heightened appreciation of nature. "So, when I was considering ideas for my first Chelsea show garden, it felt natural for me to reference the themes of this beautiful poem in the design."
Gardens and poetry do seem to have an affinity. This June the Open Squares Weekend in London will again be hosting Poets in Residence, with thirty poets available in twenty-seven gardens. They too will be encouraging contributions from the public, so now's the time to start sharpening those pencils.