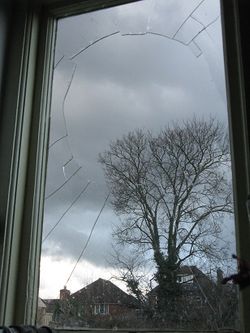 I was alerted by the banging. Something was jumping up and down at the kitchen window, trying to get in. "Help," came a cry from my mother by the back door.
Approaching the back of the house from the end of the garden, I caught the desperate stare of a pigeon on the kitchen windowsill. It wasn't trying to get in, it was trying to get out!
"I don't know where it came from," pronounced the Aged P, standing in front of a huge hole in the neighbouring window. (Hmm, speed on the uptake can become inversely proportional to age.)
I think we're probably lucky it hasn't happened before. My father-in-law's patio doors are often covered with pale imprints of wings where birds have flattened themselves against the glass. The difference is they don't go through. We had the same marks, only they were on the inside, where the pigeon was trying to escape.
What a mess! It must have torpedoed through at full tilt. Why I didn't hear the crash, I have no idea. Glass everywhere. In the sink, on the floor, down the side of the cooker, in the hall. Nasty stuff: large chunks mixed with tiny shards and splinters.  Feathers too. Thank goodness the bird-brain didn't break its neck - at least we didn't have to clear that up. Using very slow movements, we managed to open the window it was trying to get out of, and off it went.
It's widely quoted that over 100 million birds die a year by ramming themselves into glass. That's something of a finger in the wind, though. A 2013 article quotes Professor Daniel Klem, who first came up with the figure:
It was based on data gathered over at least 10 years on individual buildings ranging from one bird a year being killed to several hundred in an hour.

But clearly no quantitative survey was done in a stratified fashion to look at different threats at different sized buildings, and window area and so on.

So there was a quantitative basis behind it but it wasn't at the level to consider those figures to be facts.
It's a number that appeals. In 2004, the British Trust for Ornithology estimated that around 30 million birds died in collisions with glass (after analysing recorded discoveries of dead ringed birds), and that 70 million more hit glass but weren't killed. I can say that, if you have glass with the apparent resistance of tissue paper and combine it with a hefty Columba, no corpse results.
Fingers crossed that it won't happen again. There are plenty of online reports of birds repeatedly throwing themselves at a window several times an hour. You're probably familiar with the assumed reasons: that bird is seeing off a "rival" in its own reflection, or seeing the sky and trees reflected, or through a window on the other side of the room and assuming the way is clear.
In 2013 The Wilson Journal of Ornithology published research by Professor Klem and P G Saenger which found that parachute cord hung at intervals between (approximately) 9 and 10.5 cms in front of the pane would stop bird impacts. Not everyone's choice. I found a recommendation to draw lines with a yellow highlighter pen on the outside of the glass - more visible to birds than to us, apparently. If it's a major problem, there is a film called CollidEscape (shipped from the USA) which might be worth considering.  If you've found a solution to the problem, do comment below.
Crossing more fingers, I trust this won't become a problem. This was the first time ever. Still, I can't help wondering what would have happened if someone had been washing up. Would the reflection have looked different enough for the pigeon to avoid the window, or would the window have exploded in someone's face? Doesn't really bear thinking about, does it?