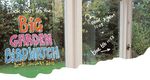 At this time of year garden planning involves a lot of staring out of the window.
While you're doing that, why not count a few feathered guests for the RSPB's Big Garden Bird Watch which takes place next weekend on 30-31 January? For just one hour, you could be one of the half million people who contribute to our knowledge of garden birds each year. Or you could join one of the Garden Bird Watch events which will take place this weekend.
They also provide a helpful recording sheet, which includes pictures for easy identification. If you register early you get 10% discount on birdseed and feeders.