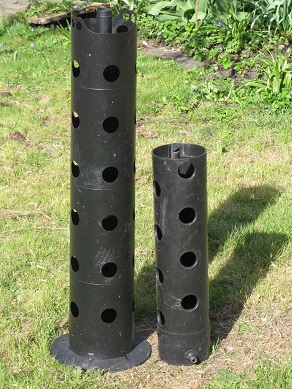 ...mushroom.
Students of the 1970s will be familiar with Shirley Conran's oft-quoted remark. Last year I worked out my garden equivalent:
Life is most definitely too short to stuff a flower tower. 
It also made me realise why, to some degree, gardening becomes easier with time. It's not just down to one's growing experience of how plants behave (though, obviously that helps) but one's gathering understanding of how one's self behaves.
I'd been given both the Polanter and the Flower Tower to try and (blush!) had put them off for a disgraceful length of time. The Polanter is a very sturdy design based on the drainpipe, with the idea that you can buy several, slot them together and make a taller tower. It can be attached to a wall or left free-standing and each section is under two feet high.
The Flower Tower, at just under three feet, is taller and wider and mine is free-standing only, although you can buy a wall-fixed version. On first getting it out of the packaging it seems rather flimsy, but clever construction means that it's light but robust and has handy finger-holes at the top to allow for carrying.  Flower Tower's Facebook page has oodles of pictures showing what it should look like fully planted. 
Last year, in uncharacteristic enthusiasm, I determined to stuff both to the gunwales, display them prominently, and bask in myriad remarks at the throbbing colour enlivening unloved corners.
Hmm.
There are, no doubt, many, many gardeners (such as you?) who thrive on such containers. Done properly, they disappear behind a cloud of blooms which repeat flower all summer, drawing bees and admiration. However, even more than pots, I would suggest, they devour time. After all, the ratio of soil to the number of plants is really rather meagre. They demand forward-thinking - water-retaining granules and granular feed should, no doubt, have been shovelled in industrial quantities down their gaping maws, along with the compost.
As it was, they required water. Much, much water.
To be fair, both Polanter and Flower Tower have made provision for this. Both instruct users to fill the bottom with a layer of gravel to act as a reservoir (and ballast, I guess).  Polanter also provides a Hozelock connection to a seephose that runs down the centre of the pipe. Flower Tower has put an open chimney with holes down the centre of theirs, which you fill from above. 
My problem was that you have to do it a lot. And you have to do it with attention. The Polanter seephose did squirt out water, but mostly at the hose connection. This probably wasn't their fault. Having just read Anne Wareham's Outwitting Squirrels, I am now aware that these connectors should receive considerable pampering. However, as it didn't work very well, and I hadn't at that point heard that changing the washers on the connectors might be the answer, I eventually gave up trying to keep it watered, hauled the plants out and put them in the Flower Tower.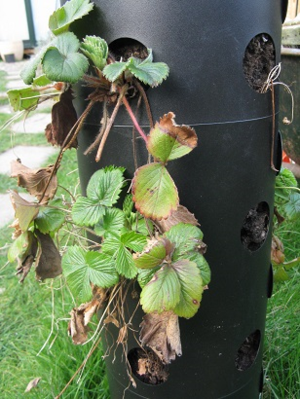 Watering-wise, the Flower Tower's system was more successful for me, but that still dried out too quickly for comfort. Husband, with scientific background, queried whether the plants at the bottom of the Flower Tower wouldn't be better provided with water than those at the top because water pressure would be less at the top in the chimney. I have no idea, but certainly when I did water I felt it necessary to water around as well as down the chimney.
The strawberries fared better than the lobelia in their tolerance of my treatment, but look considerably happier now that I've wrestled them from their holes and replanted them in the ground.
All this is not to say that others wouldn't find these the perfect addition to a garden full of colourful bedding. If you're set up for hanging baskets (you might have guessed I'm not), fill them with appropriate media, and enjoy ensuring that everything is thoroughly soaked daily, then you'll probably get a lot of pleasure from them. I still love the idea of a "drainpipe" cascading flowers down the side of a house. But if I do pots, they have to contain loads of soil to act as a buffer against my neglect. 
For me, this is the last of the experiments with this sort of container. If there's anything that you know you're totally unsuited to in the garden, I'd be interested to hear what it is (go on, make me feel better).
In the meantime, I comfort myself with the most pertinent approach to better gardening is, Gardener, Know Thyself.