We don't need cookery books. All we have to do is look at the Internet. At least, that's what people tell me but it'll never be a modus operandi that I'll be happy with.
Books are here to stay in my kitchen, especially as more, perhaps, than any other books, they tell a story. There's the Good Housekeeping my grandmother gave my mother when she got married, now held together by rubber bands to stop the covers falling off. Others hold favourite dessert recipes that I enjoyed as a child. Delia's One is Fun (now rarely consulted) went with me to Uni (isolationist that I was - still, others in my house used it too).
More recent volumes show a growing infatuation with spicy food, and a sprinkling of celebrity chefs - as well as the changes in recipe-book design. More and more pictures. Is it just me who feels there's a growing disconnect between cookbook designers and the people who use them? 
Prompted by increasing frustration, I've put together my own recipe for the perfect cookbook.
The Recipe Book's Index...
...should include major ingredients as well as the recipe title. The Archers' Cookbook (a present from a relative before the BBC pushed Nigel off the roof) breaks the rule to such an extent that, back in the days when time passed more slowly, I actually created my own index. I mean, listing Buttered Caraway Cabbage under "B" means pretty much loses it for anyone wanting to spice up their greens.
I based my own version on the best index I've ever come across - in the Farmhouse Kitchen books (remember the Yorkshire TV series from the 80s?). Recipes are listed by title, by category (desserts, cakes etc) and by major ingredients (eg beef, apple). If you have something left over in the fridge and need inspiration, a thorough index is better than a search engine.
Which takes me on to...
Cookbook layout
How do you look for recipes? Probably in the section dedicated to that part of meal. Most pan-meal recipe books begin with starter, move on to main courses, end with desserts. The Archers' Cookbook might have some leeway as a quirky evocation of village life, but it doesn't make it any easier to find Victorian Fairings when you're not sure if they garland the chapter showcasing the Brownies' Summer Picnic or The Ambridge Flower and Produce Show (and are indexed under Freda Fry!).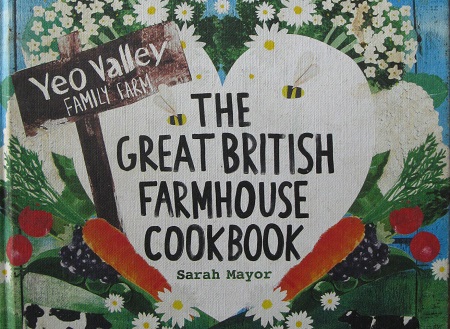 The Yeo Valley Cookbook suffers this malady too. It's divided into chapters such as The Dairy, The Fruit Garden, and Woods, Hedgerows, Fields and Streams, though it rescues itself through a proper Farmhouse Kitchen-style index.
Now the Yeo Valley Cookbook has a great deal going for it. It hasn't given me a duff recipe yet, and Husband's favourite dessert/cake (any time, really) is Blackberry and Brown Sugar Fingers. Besides this, I've made Poppy Seed Ice Cream and Twice-baked Goats' Cheese Soufflés to pleasing plaudits. If I'm flicking through for desserts, though, I have to search chapters back and front.
Recipe Book Illustration
Apart from dodgy divisions, they also commit another cardinal sin. Page colour. Photos have moved from helpful illustration to backgrounding the entire text. Looks great, until you realise the recipe is printed in white on an almost black background and you want to jot a note in the margin. I always note down ingredient substitutions, timings and ratings: "Good but not worth the effort" - that sort of thing. So it's hugely annoying when the only place to write visibly is across the middle of the picture on the opposite page.
Which takes me on to...
Excess illustration
Few of my mother's cookbooks have pictures. Now every book is covered in them. Which is nice, if they're relevant. However, where they stray away from the actual recipes they're usually bigging up the author in some way. Yeo Valley have pages given over to life on the farm.
Spice I Am, which has some scrummy recipes from one of Sydney's leading Thai chefs, Sujet Saenkham, shows him tossing a lot of pans. OK, it adds colour, but when you're flipping through a book you just want to get to the meat of it, if you see what I mean. They're not coffee table books, for goodness' sake.
So that's it; quite a simple recipe. A decent index, photo moderation, and space to write. It's surprising how many cookbooks don't provide all three (or even one) these days.
In fact, I'm quite tempted to have a go at designing my own. I recently came across this thorough Designing a Cookbook article, while there are a few things I wouldn't mind copying from 35 Beautiful Recipe Book Designs. 
One day, perhaps. What would you like to change about modern recipe books?