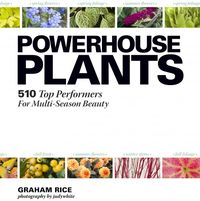 One shrub I wasn't expecting to see in Graham Rice's new book, Powerhouse Plants, was Forsythia. It's bright, it's cheerful, it flowers generously but, once the yellow stars have gone, it's very dull indeed. Or is it?
Powerhouse is the description used by Graham for plant varieties that offer interest at more that one point of the year; they might combine two (or even three or four) attributes such as interesting bark, winter stems, good foliage, flower, fruits, seasonal colour.
I've enjoyed Graham's books before - last year I reviewed his Planting the Dry Shade Garden - and this one doesn't disappoint. He draws attention to stages of plant growth that normally elicit no comment. In future, I shall think about the possibilities of emerging plants. As he says, "the fresh new growth on perennials as their shoots shoulder aside our mulch" can offer appealing and, in the case of something like the spear of Arisaema triphyllum (Jack-in-the-Pulpit), colourful and dramatic punctuation to the border.
Partner plants are recommended. I suspect that most of us choose these according to the mature appearance of each contender, but we can be more subtle.  I was particularly taken with the photo of the pink stalks of an emerging peony surrounded by flowering Anemone blanda (windflower). And, throughout, the photos (taken by his multi-talented wife, Judy White) are very good, with plenty of close-ups, concentrating on detail. Though, if you want an idea of an overall shape of, especially, the larger plants, you'll need to consult another book or visit a nursery.
This is a book to be read with a notebook and pencil, while you work out the combinations that will suit your taste and soil type. The subtitle of the book is "510 top performers from Multi-Season Beauty". A few of those 510 are natural performers - crab apple, hardy cyclamen (both C coum and C hederifolium), for example - but the majority of the chapters are dedicated to plants that offer interesting cultivars.  So each of the 65 choices (which include chapters on ferns, grasses and conifers) offers an average of 7 or so multi-season cultivars.  That's plenty to ponder. Get too carried away and you could end up with frenetically variegated borders spotted with purple, so it's also a book to use with discretion.
Coincidentally, The Patient Gardener, Helen Johnstone passes on a handy piece of advice about planning borders after her visit to John Massey's garden at Ashwood Nurseries: choose a season, focus on that when planting, and then look at adding interest in other times of the year.  Powerhouse Plants would be a good place to start the plan.
And how about Forsythia? Well, fancy there being no fewer than 6 varieties that give interest past the flowering stage! Among them, the dwarf variety 'Kumson' has delightful cream-veined leaves. 'New Hampshire Gold' turns reddish-purple in autumn, and 'Taff's Arnold' is variegated. In common with a number of other cultivars mentioned, they're not easy to find, says Graham, but I certainly will enjoy the search.
(Just released this month, this book was sent to me by Timberpress for open and honest review.)