Some plants are just made to raise a sceptical eyebrow, and this year it was Egg and Chips from Thompson and Morgan that furrowed the brow. An aubergine grafted onto a potato? What's promised is an average of 4 aubergines per plant and up to 2kg of potatoes. Egg and Chips is also supposed to be so easy to grow that you barely need instructions. "More than just a novelty," say T&M.
Not what eminent horticulturalist Graham Rice said about it in the Telegraph when Egg and Chips made the list for Plant of the Year at the Chelsea Flower Show this year. "A clear winner in the gimmick department" were his exact words, and he obviously felt more than slightly dubious, saying:
Most gardeners find it hard enough to grow good aubergines – red spider mite in the greenhouse, flea beetle outside and aphids everywhere… not to mention a need for far warmer conditions than the humble spud requires. This idea is the triumph of marketing over horticulture, its sheer novelty got it on the shortlist.
Growing Egg and Chips
My plant arrived at the beginning of May, about six inches high, with a graft between potato and aubergine that needed careful handling. I planted it with no expectations. I've had barely any luck with aubergines - to the extent that I gave up trying years ago, having come to the conclusion that the reason I got no viable fruit was that I couldn't give them a glassed-in spot with enough light. This time, the plant took its chance in the garden.
Into an inverted compost sack, black face out to soak up the sun's warmth more easily, a sheltered position, and off we went.
Much to my surprise, it grew a very good-looking aubergine, about the size of my hand, and another much smaller one about five inches long. Much to my annoyance, I seem to have accidentally deleted the photo I took, so I can't show you my triumph.  
There was no problem deciding when to pick the aubergine (they parted company with the plant sometime in September when something - snails, I'm guessing, began to regard them as tasty morsels). Judging the potatoes was harder. The plant showed absolutely no sign of dying down, so I finally broke in October and turned it out of the bag. Aubergine harvest slightly disappointing in comparison with mooted average harvest. Potato harvest...?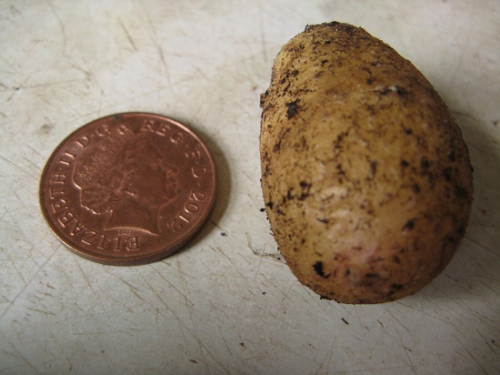 Yup, that's it. One very small potato.
I have to say that it tasted very nice. Apparently, many different cultivars were trialed, for several years, to get the best combination of tasty and robust veg. That bit certainly worked. Thompson and Morgan haven't revealed which cultivars they chose, and it's a shame as I wouldn't mind giving the aubergine another go. I roasted it in the oven in slices with other veg to go with the Sunday joint and itwas one of the best I've tasted.
But harvest-wise? I think we can admit to a problem. I was much better at watering this year than I was with the compost comparison potatoes I grew last year, but those harvests were bounty in comparison.
The answer to aubergines?
Might it, however, be the answer to my aubergine-growing problems? The potato plant is meant to support the aubergine better, in our cooler soils and climate, than the aubergine's own roots. Certainly, while I got less than half of the promised harvest, the harvest I got was encouraging. I might be tempted (at a moderate cost) to grow this just for the aubergines, though with the prices quoted on the T&M website (confusingly £14.99 for one, or 15.99 for two), we can safely say that won't be any time soon.
However, it's a fun plant, moderately diverting. I'm sure other people will have been more successful (such as Sandra at Greenjottings). Or possibly not (Michelle's harvest on Vegplotting was nearer mine on the aubergine front).
If you've tried out Egg and Chips this year, do comment below. Leave a link if you've blogged about it and I'll add it to the end of this post.