What is the thing that I am least likely to do at this time of year, and yet have already done twice? Well, if you look at the picture below, you'll get the idea.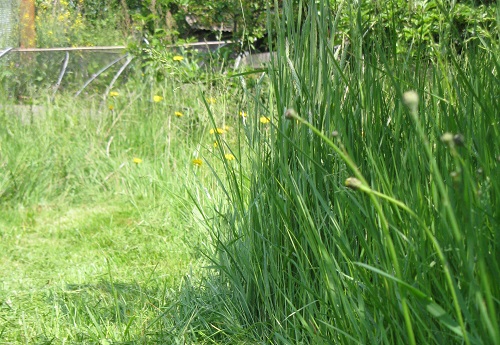 This was June last year. A path had been cut in the grass, but otherwise? Yup, it was all pretty much the length of the grass on the right.
For several years now, I've given the 'lawn' its head. Laziness, mainly. That, and the fact that our old lightweight Qualcast electric mower really hates wet grass, so the green stuff always got away from me in spring. That mower isn't much fun to use.If you're a regular visitor, you may remember I had a summer fling with the EGO mower a couple of years ago. That was a revelation of battery-power potential.
This year, I have the G-Tech, modelling here, once again, for comparison sake, with the old Qualcast.
When the mowers started humming around the neighbourhood last month, I took a speculative look at the damp, thrusting sward and thought I'd give it a go. Would the Gtech, put away with a charged battery around November last year, still have a charge left in it? Unlikely, I thought.
Battery power
The EGO's battery, which is a massive 56v and charges in half an hour, was dead every time I got it out (having left it about three weeks each time). The Gtech? No problem; its 36v battery fired things up straight out of the garage after four months.
I could probably have cut the entire lawn, but for my incompetence. When the mower stopped around three quarters of the way round (approx. 20 x 50 ft of grass), I immediately assumed the juice had run out and took the battery off to charge. What I'd actually done was jam up the blade with long, damp grass. The instructions tell you not to cut the grass when wet but...you know... (Besides, there's no explanation why not and, as that appears under the Personal Safety instructions, perhaps they're fearful that you'll slip?)
Officially, the battery takes five hours to charge fully from flat and is ready when four quarters of a circle light up. However, because it's holding a charge so well, I've been waiting only until it gets low and then charging after use. You can check the status of the charge when the battery is in the mower by pressing the button in the centre of the circle. If ever it gets too hot while mowing it will flash red, when you should stop and allow it to cool, which in my experience (see below) takes only seconds (but I did stop instantly).
The battery itself is 10 inches long (25.5cms), a graspable size and easy to manoeuvre, as it has a handle designed into the top which allows you to remove it easily from its station. Again this was a big improvement on the EGO's large square battery that I found awkward to get in and out of place.  After a full mow and a bit, three quarters of the circle are still lit, meaning there's still 30-60% left in the battery.  That's one of the nice things about the Gtech operating manual - it's given answers to just about all the questions I've thrown at it.
Chucking it into the long grass
But how does it cut? Well, some people would say I've mistreated the Gtech already. The picture at the top? That long grass was cut down to size by the Gtech. It was dry. It would probably have been a different story wet. The very long grass jammed it a couple of times, and the battery flashed red very briefly, but otherwise, with me taking it slowly, it coped extremely well, helped by the "gear-change" height adjuster set to the top level. 
It has six settings, ranging from 30mm through to 80mm - a breeze to operate with a smooth, easy action.  With a cutting width of 430mm, it makes decent progress around the lawn, without being a beast to manhandle through doorways. The weight also means that if you do use it in an unapproved manner (i.e. very long grass) it's not hard to tip over to clear the blades.
Health and safety
Speaking of manhandling, it weighs 16.95kg. It also has a well placed carrying handle on top. There isn't another at the front but the nose is nicely shaped to fit into the hand, so it's comfortable to pick up. For me, the weight means that if I really needed to I could lift it, unlike the EGO's back-freezing 26kg.  The handle folds down for neater storage and the mower won't work unless its fully extended and clicked into place. For me, at 42 inches off the ground, the handle is as high as it could be to still be comfortable.
Safety features include two-part starting - press the button and squeeze the handle. No fiddly "key" to insert each time, though there is a simple "activation key" set into the main body which clips in and out and should be removed whenever you go near the blades.
So, I've been trying to think if there are any niggles and, to be honest, it's hard. I find the Gtech easy to move around (to the extent that I can go for my "vacuum cleaner" style of mowing under low branches). It cuts close to edges. The soft-sided grass box holds 40 litres.
The weakest point is the flap on the grass box, which should flip up to indicate that it's time to empty. However, if you overfill, then the grass chute clogs and the flap closes again, which means you could miss it. There's no sense, from the design or the modus operandi, that this is a precision piece of engineering, but the fact that I haven't yet seen it open probably has more to do with my emptying the box more often than necessary, just so it's easier to mix clippings into the compost heap.  The 40 litre capacity meant that I got it all cut in a couple of goes at the length (pictured above) it was for the first cut this spring.
At £349 on the Gtech website, there's no denying this is an expensive piece of kit, but this includes the battery and charger and, with its 43cm cutting width, compares comfortably with other models on the market. Other mowers cut down to 20mm, rather than 30mm, but tend to have a maximum cut height of 70mm, instead of 80mm. If you have grass like mine, that will suit you fine.
So, all in all, this surely makes the neighbours happier, as they are all neat and tidy lawn mowers. It also purrs along at a decibel level that's guaranteed no more than 96 dB(A). It makes Husband happier, as a meadow doesn't quite fit in with his idea of a decent back garden. And it most certainly makes me happy, as being able to bring it easily out of the garage for a quick blast on the shadier, faster growing areas, without untangling the electric lead, and without frequent emptying of grass box, is my idea of keeping things under.
I have seen the future...
Sometime soon all garden mowing will be like this and no one will have an electric mower, except an old one stashed in the shed. I question the future of small petrol mowers too, given the advances in battery power. If you need to buy a new mower but the battery models are still a bit expensive, then hang on and make do until you've saved enough to get one. Honestly. You'll never look back.
The mower was supplied by Gtech for independent review.