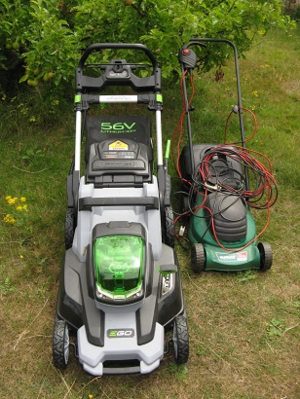 "Due to a terrible miscalculation of scale the entire battle fleet was swallowed by a small dog."
I was reminded of this abortive invasion of Earth from Hitchhiker's Guide to the Galaxy with the arrival of the EGO mower for review. Only, this time it looked as if the invading force might eat me.
Scale isn't obvious in a picture and, not thinking, but expecting the mower equivalent of a small saloon car, I was stunned to find that the new arrival was more in the category of an SUV.  Shiny, huge, rather sexy but, as with all SUVs, a total over-specification for its suburban surroundings.
Still, nil desperandum. For me, this turned out to be a revelation of new battery technology.
My usual mower

As you can see from the picture, it's a Qualcast. It's small, chosen for its extreme lightness and also because the front garden is a patch of grass surrounded entirely by flower beds, with no path access.
It doesn't give a a tidy result, needs emptying after a couple of passes up and down the garden, needs unclogging underneath at the same time, but can be tipped over and picked up with the crook of your little finger.
It will also, faced with grass nearing a foot high, close down for fifteen minutes while it cools down at the insult. Sometimes, shorter, wetter grass makes it do the same.
The grass I mow
A "lawn" that''s approx. 20 x 50 feet, with low-hanging branches on an small apple tree in the centre, more sweeping branches from an apple at the side - both of which tend to get a bit tangled in long grass as summer progresses - some stepping stones set into the grass, and the odd pot and table that I tend to mow round. 
You by now will have the image of someone not exactly lawn-proud who merely aims to keep it roughly under control. (It's a crop, OK? I feed the compost with it. Besides, I like a shaggy, country feel.) And who has never experienced a big, powerful mower.
The EGO trip
Enter the EGO.
First question - how on earth do I get it out of the cardboard box? This machine is heavy. Massively heavy (26.2kg). Lift it? You must be joking. I cut it out of the box. There is a lifting handle at the front for people who fancy a bit of variety in their weightlifting training, but I moved it entirely by pivoting it on its back and front wheels.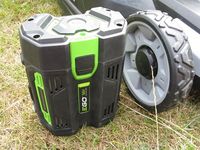 Second question - I've never had a battery-powered mower before; what do I need to know? To find out, I had to go online, to an instruction book that's the wrong way round onscreen (and couldn't be shifted 90 degrees, either).
For a retail price of £499 I expect instructions. On paper. I don't want to have to remember instructions from screen to garden, or print them all out, or squint as some tiny screen while I stand over the mower (assuming I even had a smart phone).
The booklet is stuffed with information of the type "Do not run over your foot while mowing", but I couldn't find any reference to battery care. In the end, it seems straight forward, but I'd like to know that before experimenting to find out.
But what about that battery? This is the clever bit. The biggest limiting factor for battery-powered equipment has been the size and weight of battery required. The EGO is notable for its 56V lithium battery. Most are 36V. And even more impressive? It charges fully in half an hour. This is very fast. It also means that you can decide to mow the lawn at almost a moment's, rather than a morning's, notice. Which is good. I don't mow that often, so I don't know how long the battery holds the charge, but certainly, whether I took the battery out or left it in the machine after mowing, it needed charging three to four weeks later (it's been very dry, so the grass hasn't grown much so far this summer). 
According to its publicity sheet, It should cut up to 800 square metres, have a tenth of the running costs of a petrol-powered equivalent, and operate for up to 1500 charges (around 8-10 years in an average sized garden).
The mower's size has advantages. Husband looked at it blankly and said, "Some people's gardens are smaller than that." But with a cutting width of 49 cm (the Qualcast is 32cm), it ate up the space. Mowing, which usually takes me a sweaty 30-45 minutes (depending on assiduity), was now taking about 20 (and I was being much more assiduous). 
For a machine that heavy, I thought it moved nicely. I was just so sorry I couldn't give it a good run. Suddenly the garden took on a new character - in fact, quite irritating in parts. Those low-hanging branches? How dare they block the path of the mighty mower! Cut out a corner of the lawn for a Bramley (which I have done)? No, we need more mowing!
The battery light shows green when the mower is happy. Overload it and it'll start to flash amber and then turn to red and stop. The only way I could make it do this was by lowering the height. It has five height settings (25-80mm), and the bumpy, tufty lawn was too much for the lowest two. I stuck with the middle height most of the time, but foot-high grass under the apple trees? Cut down like Man by the Grim Reaper, on setting no. 5.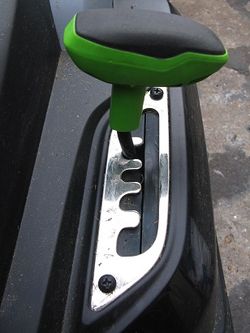 This was my favourite feature - the height-changing gear-stick. And don't tell me it's not been fashioned to remind you of a racing car. A notchy gear change and the suspension rises and falls before your eyes. The stick needed a little effort at times to move it, but attacked from the right angle, slipped smoothly into place.
It comes with three grass collection options, two of which need a plastic insert (both of which felt pretty robust) into the back of the mower. One makes it into a mulching mower. The other directs the clippings to the side as you walk. The third is the 60-litre soft-sided collector which turned out to be easy to take off and rehang on the back, even though you had to lift the rear flap on the machine to do this.  This isn't a loud mower generally, but I was very taken with how quiet it was when set up to mulch.
What didn't I like about the EGO mower?
Hmm. It's an expensive machine and I just got the feeling that certain things had been skimped on, putting reliance on its good looks to carry it through. The see-through green lid on the battery compartment irritatingly wouldn't stay up on its own, so you had to manoeuvre the battery into position while it fell down and got in the way.
The battery itself is very neat but it's a large, heavy object with little to get a grip on for anyone with small hands. I'd have appreciated a design with some sort of handle built in to make both wresting it from its charger and slotting it in and lifting it out of its compartment easier.
The height-adjustable handle doesn't offer much choice. For the mower to work, plastic clips (that didn't feel as if they'd last too long) have to be snapped over the shafts. There are only two positions where there are holes to receive the clips - fully extended, and unextended (top picture). The former was slightly too high for me while mowing (with the handle sitting mid-chest level), the latter too low. (A good point about the handle, though, is the way it folds very neatly, creating a compact outline for storage.)
All the plastic bits (there's a starter "key" too) feel a bit flimsy.
And, of course, there was that lack of instruction booklet.
Would I buy an EGO mower?

I'm keen to try other battery-powered mowers, as I suspect that this is the one to match. EGO Europe's marketing director, Steve Roskell said, "EGO is the first range of cordless outdoor powered gardening equipment capable of matching or surpassing the performance of petrol-powered machines without any of the noise, fuss or fumes." Well, I'm convinced.
And I've enjoyed having it. How things might change if I had it permanently! This is built to run down large areas of open grass. Its bag took all the clippings in one go in July, and in two goes when it was very lush and longer at the beginning of the year.
But I wouldn't get it myself. It's too big to store anywhere except the garage (the car was banished outside). Too heavy. And for the price I think it needs a few design tweaks. But it's certainly been a revelation as far as the possibilities of battery power are concerned.
The EGO range includes a blower, line cutter, hedge-cutter and chain-saw.