One of the staples of summer in my garden are hollyhocks. I sowed a "black" hollyhock and a standard pink one many years ago now, and have never sown again. The interest is that each year I never know what colours will be coming up. A couple of years ago, I was rewarded with this rather lovely wine and pink combination against the background hebe.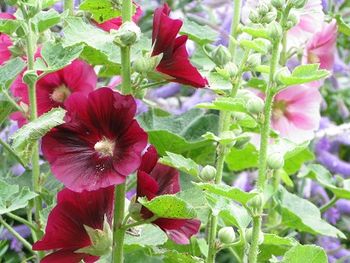 The black, which was really a very dark purple, disappeared after the first couple of years, and I wasn't sorry. Black flowers do rather disappear into the background, so it was difficult to tell they were there.
This year has presented more than the usual variety. I always love the pink ones which are pale enough to create a stripy effect when they're open: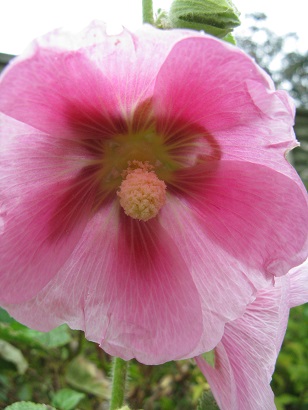 Then we have a more solid pink altogether: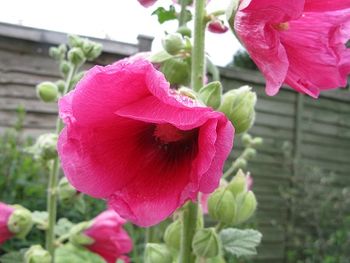 And a really pale pink. These are one of my favourite too. Thanks to the mysteries of genetics, all the hollyhocks this colour have, this year, been no more than two feet tall. Strange but cute.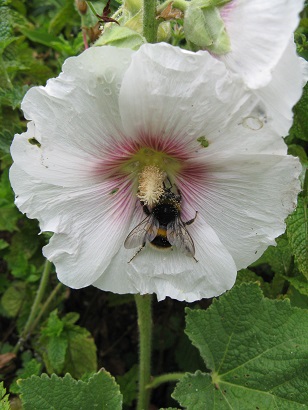 Last year I decided some hollyhocks on the other side of the garden would be welcome and sprinkled seed from last year's plants. Up came the only one in this rather determined colour: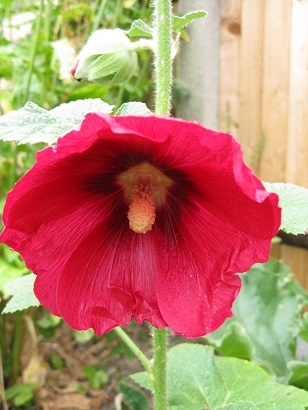 And long may the hollyhocks continue to spread their seed, I say. Whatever the colour, they always look lovely, and they over a positive bounty of pollen to the bees.
This is part of Garden Bloggers' Bloom Day, hosted by May Dreams Gardens. Why not pop over and see what else is blooming around the world?