Super as it is to have the garden right outside the door as you work, there is a disadvantage. If you're in the same position, you'll probably recognise the problem. Bugs!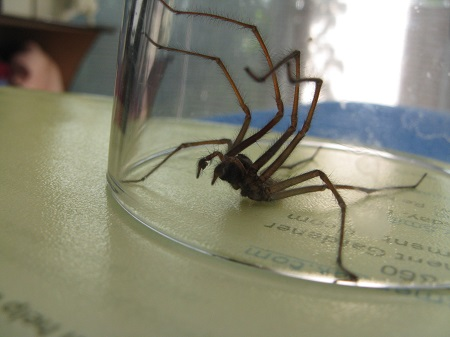 A few months ago I was sent Insect Clean Spider Free. I haven't actually tried it yet as I don't have a huge problem with spiders. I do, though, have a problem with huge spiders. The arachnid in the picture above was just too big to live with and, if this sort of thing is going to become a habit, I might just reach for that repellent.
In fact, given the expectation of increased numbers of insects this year because of the warm winter, the spray might prove useful (it works on flies, mosquitoes and wasps too, it says). It contains lavandin oil, you spray it around doors and windows to discourage entry, and it promises to work for up to six months, repelling not killing.
Of course, the really cool insect remover would be a little green lizard a la Death in Paradise's Harry. Even if, in real life, it turns out to a silver ball and a blue bag. (Was I the only one who thought he was a trained reptile?)
 (If the video above doesn't appear, find it here.)
A Gekko is as big as it gets
And it turns out that Harry (real or not) is pretty much as big a bug-eater as he can be, taking account of his vertical peregrinations.  A new study, published this month,  examined climbing critters and came to the conclusion that, the larger the body size, the larger the sticky footpads required in relation to that body size. So a mite has sticky footpads equalling 0.02% of its body surface, and a gekko's footpads equal 4.3%. Gekkos are the world's largest adhesion-based climbers as they represent the limit of body surface to volume ratio that allows sticky pads to stay stuck to the wall before they're peeled off by the creature's weight.
Going by this calculation, Spiderman would need feet to fit European Size 145 shoes to scale a wall. Hmm, attractive.
And spiders can never, actually, get that big.
Launch of the giant spider?
That was the main thrust of the news reports. But there was more. What about species which have grown but not increased the size of their sticky pads and aren't found in a heap by the skirting board? (Think tree frogs.) They have found the secret to increased stickiness, while managing not to be rooted to the spot by their own adhesiveness. This is an area of huge interest, with scientists hoping to develop strong bio-adhesives on the back of it.
Which all means that Spiderman's hands and feet are probably just fine as they are, just very, very sticky. Far too sticky to be hugged.
What no one's actually spelt out, though, is that it surely means that that garden spider on the wall behind me could evolve to be much, much bigger...