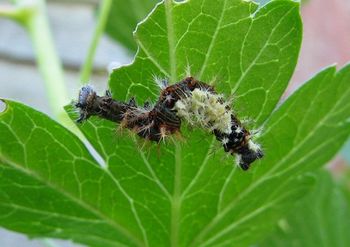 Never think that sci-fi writers are original. They just look at Nature and copy shamelessly. The Last of Us, a video game just launched, takes a quite revolting fungus attack on ants in the Amazon and transposes the idea to humans.
And surely it can't be long before someone weaves some fiction from last week's skin-crawling pictures of the cherry trees in Cambridge enwebbed by ermine moth caterpillars. (Perhaps they have; I'm far too squeamish to know much about sci-fi horror.)
So, when I saw this spiky, stripy caterpillar, resembling bird poo, I wondered with trepidation what had taken up residence.  The tufts must be there to put birds off but they do a good job on me too. I was torn between excitement at the possibility of a rare and dangerous creature taking a fancy to my gooseberry bushes, and the likelihood that, as it was actually on my gooseberry bush, it couldn't be rare at all.
And it isn't.
However, the ID was quite hard to track down, so, just in case you're wondering what a brown and black, stripy caterpillar, with tufts of white hair and a white splash on its back might be, I can now, thanks to the useful caterpillar guide from Moths Count, say categorically that it is the caterpillar of the Comma Butterfly, most commonly seen from May to August.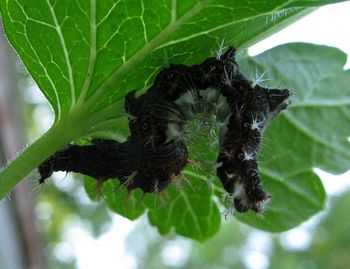 The comma has raised some excitement in recent years as it has returned to Scotland, having died out there in 1870s. Butterfly Conservation considers it rather fascinating, especially as its numbers declined sharply and are now increasing strongly. The caterpillar is indeed designed to look like a bird dropping, while the scalloped edges of the butterfly's wing (also brown and black) allow it to hibernate more safely among autumn leaves.
One of the few weeds I don't have in the garden is stinging nettles, and elms are obviously few and far between (was the demise of the elm a factor in its decline?), but it does also feed on species of Ribes. Hence the gooseberry.
It doesn't seem to be much of a pest, though. The bush has lost a few leaves, but this is nothing like an attack by the gooseberry sawfly and it has not been stripped naked.