Well, this Garden Bloggers' Bloom Day I'm hoping for some advice. Here's what I've chosen for this month: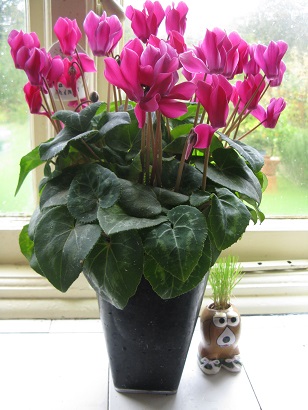 I featured this plant at the beginning of the year when I reviewed its Ebersankey Glossy Self-Watering Pot from Fiskars.  The string wick that draws the water from the reservoir has, incidentally, suffered no further diminishment and, as you can see, the plant has at least doubled in size. It has also flowered non-stop - and I'm not exaggerating; it's had bushels of blooms - since last Christmas.
The question I'm asking is, Can it flower itself to death? Should I take it out of its pot, let it dry out and give it a rest, or just let it get on with it? If the latter, I really feel I ought to start feeding it in some way - perhaps a drop or two of plant food in the water.
Any advice would be much appreciated. What do you think?
NB See what's happening to blooms around the world this Garden Bloggers' Bloom Day at May Dreams Gardens.