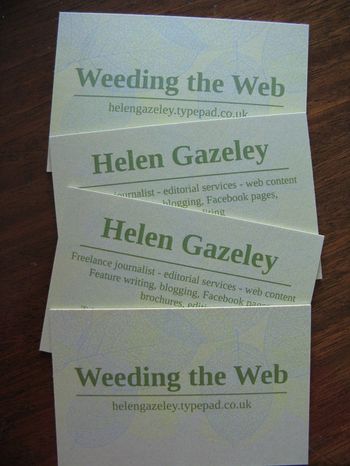 "Oh, you freelancers!" admonished a marketing director at the Garden Press Event several years ago. "You never have any business cards." I would have hung my head in shame, but for the fact that I was secretly cheering at the revelation that I was not alone in my lack. 
Since then, Husband has periodically pointed out my omission, and I have agreed to do something about it. 
Nada. 
So when Aura Print asked me to try out their Impakt Coloured Core Printed Business Cards, I jumped at the offer. Just two weeks before this year's Garden Press Event, it was perfect timing.  Finally, I would be able ditch the excuses - "So sorry, I've just run out," and "So silly, I completely forgot to bring any with me, " - and present one when asked with becoming alacrity.
Aura Print don't just print cards; they'll design them too, and I gave them their head. Design has been one of the stumbling blocks to my getting cards done. How large? What font? What colour? And - most important - what info?  Now, deadline looming, I was forced to find the words. The only choice I had to make on the card, though, was the core colour.
This core colour is, basically, the filling between the front and back surfaces of the card. Not having come across this idea before, its implications didn't hit me. I chose Sunflower Gold and the proposed design came back swiftly (in fact, all responses were extremely swift). 
I was pleasantly surprised. They'd obviously looked at Weeding the Web and got the flavour. Hence the green colour (which my camera hasn't picked up very well) and the rather nice subtle background design of leaves.
I asked for the font to be changed. The one suggested was fun and modern but I'm happier with something more neutral and business-like. The amendment came back almost within the hour and the design signed off. 
A business card with attitude
It's ridiculous how exciting it is to receive new business cards. Is it the laser-like focus on oneself that's so fascinating? They arrived beautifully presented in a fuchsia pink box, cushioned with matching tissue paper, the cards themselves nicely stacked in sturdy plastic boxes. All nice, though obviously not the main point. 
Now I met Business Card. Actually, not Business Card, but Super Business Card. Not only are they 85 x 55 mm, but did you clock that they're printed on 800gsm card? These are seriously thick.
I have to admit that, in past lives, I have dismissed business-card design as something of an affectation. What you need, I reasoned, is something that gives all the relevant info, as readably as possible, without looking cutesy. Hence, those I have had have been black and white, no decoration, plain font, not very stiff, but stiff enough.  
I haven't entirely given up on this idea, but gosh, these cards have presence. The first person I gave one to at the Press Event last week actually stopped to look properly at it when she felt it and said, "This is quite something." (It continued to catch the attention throughout the day - a more jocular observation was "You could knock nails in with this.")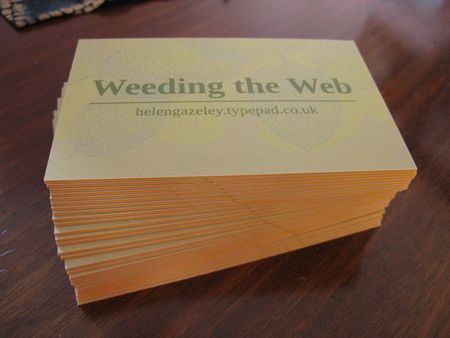 I really liked the design. I even rather like the Sunflower Gold core. Some would probably prefer a more definite contrast with the green (I suspect the lighter colours show up more with white surfaces) but it tones nicely with it and adds a little zing.
Things to think about with thick business cards
One thing you really need to consider is the thickness. Stack these up and you get 25 cards to the inch, compared 90 to the inch of my old bog-standard ones (or 50 at a sturdy 400gsm). You won't fit many in your wallet, or even a handbag.
I also had a surprise after retrieving a batch from my overfull handbag where they'd been stuffed in a soft-sided pocket. The 800gsm is made up of two 400gsm cards stuck together and if they are flexed too much they have a tendency to come apart. I asked James Croisdale at Aura Print to comment. He said:
With the thicker cards, when you bend them there is always going to be something that gives.  When you introduce a bend, the topside of the card is stretched further than the underside of the card, and some distortion will occur. Most cards of similar types simply crack, which can be seen both front and back. As ours have thinner faces and a thicker core (for most visual impact!) the faces refuse to crack and bend instead, and so the different layers may come apart instead.

Of course, you've got to bend it quite a way for this to happen, and we think that the visual impact, thickness and stiffness of these cards is definitely worth a couple of issues if they are severely bent.
I do see James' point about cards that crack:
The front and back crack open quite severely, rendering parts of them unreadable. At least with ours, if a card is accidentally bent and delaminates, the details can still clearly be made out
These are obviously matters to consider if you'd like an extra-thick business card (who knew?).
My only quibble is that I suspect James' and my ideas of "severely bent" differ slightly.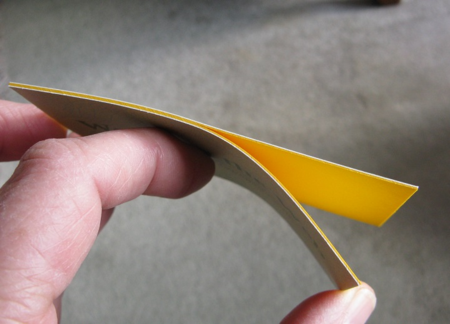 But I do like them
Actually, for me, delamination isn't a disaster as the result is two differently printed 400 gsm cards with a brightly coloured, unmarked back, both of which have their uses. I agree, though, that wasn't the intention.
The answer is obviously not to bend them and, given that, there's no getting away from the fact that these have character and are a pleasure to hand out. I actually think a card like this changes your psychology. It no longer felt as if I were just handing out details which I could have jotted down on a piece of paper, I was giving something of value. (All the more true as, not carrying large numbers, I wasn't going to hand one out to just anyone!)
I also know that someone with a fistful of business cards by the end of the day would be able to pick out mine with no more than a glance.
Aura Print are based in Huddersfield, were established as a one-man operation in 2007 by director Liam Smith, and now have nine members of the team. They offer a variety of card stocks, which is good if you fancy something that takes up less room.
I'll enjoy handing out my beefy cards for some time to come and just hope that no one bends them too much, or bangs in nails with them! 
NB James has commented below. You can find more contact details there, and he says they've solved the problem with the card splitting.