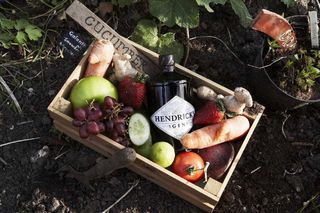 Gardening has certainly got trendy, but how's this for chic? It's inspired The Gardener's Tea Break, a cocktail available at Bourne and Hollingsworth, the quirky retro bar in London's Fitzrovia.
Now I haven't tried the cocktail, but I do know Hendrick's, the gin that forms the cocktail's base. It's generally served with a slice of cucumber, rather than the usual lemon and, to my not-so-educated palate, has a lighter, slightly airier taste (hmm, pretentious drinks talk comes alarmingly easy) than other gins I've tried.
The Gardener's Tea Break, developed by Dino Koletsas, is a blend of gin, cucumber, lemon juice and green tea syrup. It even comes in a teacup with a cucumber sandwich. Talking to Dino was quite an education in the thought that goes into creating a new drink. The choice of gin is appropriate, not just because it's infused with cucumbers but because Hendrick's, owned by William Grant and Sons, was named after the Grant family's gardener.
Dino said, "I envisaged the legendary Hendrick sitting down and enjoying a cup of Gardener's Tea Break to invigorate and refresh him before getting back to his hard day's work."
And, one imagines, a wobbly row of cabbages.