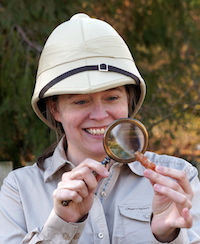 You can't have missed the explosion of interest in new and unusual veg and fruit. Well, how about Jade Pearls and Alien Eyeballs (mmm, hand me a fork!).
Not only are these unusual edibles, but they make the title of a new book by writer and gardener, Emma Cooper. It's published next month and, as part of her virtual book tour, I'm delighted to welcome Emma to Weeding the Web.
Unusual title, Emma! What exactly are Jade Pearls and Alien Eyeballs and are we likely to see them growing in your garden?
It's explained in the book, of course, but Jade Pearls are Chinese artichokes and Alien Eyeballs are paracress (which has a number of common names, including electric daisies).

I have Jade Pearls growing on my allotment as we speak, and the Alien Eyeballs have just hatched (sorry, germinated) on my office windowsill.

The book went through several titles before I settled on this one. When I began it was going to be something about Plant Hunters, and then I wanted to call it IncrEdulis (which was deemed too geeky) and IncrEdibles. But I like Jade Peals and Alien Eyeballs better!
What made you want to write it?
It was a long time ago now (2010) when I came up with the idea for the book, and I would be lying if I said I could remember that far back with any clarity. But I have developed an obsession with growing unusual edible plants, and discovered that there are plenty of other people who share the same obsession, and I really wanted to know what drove them.
The subtitle of the book is Unusual Edible Plants and the People Who Grow Them. Chapter 4 comprises 35 pages of unusual edibles that the reader might like to consider growing, from heritage and heirloom varieties such as Vitelotte potatoes (blue, and remaining blue on cooking), through forgotten veg such as strawberry spinach and tiger nuts, taking in lost crops of the Incas, oriental veg, and perennials like Hablitzia, and a wide range of fruit, herbs and "weeds" such as garlic mustard.
It's a rich seam to mine. But also included in the book are other unknowns - or at least, people that very few of us have heard of, quietly pioneering the use of unusual plants. One of these is Sally Cunningham.
Emma, how did you first encounter her?
I read Sally's book, Asian Vegetables, in 2008 and was fascinated by a woman who essentially planted anything unusual she found in the ethnic markets in the Midlands. When she got involved with Garden Organic's Sowing New Seeds Project I went to Ryton and she showed me round the greenhouses and we've stayed in touch since then. I keep spotting her in the gardens when I go to Ryton.
What have you found inspirational about Sally?
Sally has a real can-do attitude when it comes to plants. She's not afraid of failure; she just plants them and does her best to work out what they need to keep them alive.  It's an experiment for her, and once she's worked it out she shares that information with the rest of the world.

And clearly she has thrown off the shackles of traditional horticulture, which is always nice to see. I think gardening in the UK does feel the weight of its history on occasions, and that can stop us moving forward.
Has she introduced you to any edibles that you've tried growing or intend to try?
Turmeric. And water chestnuts. Two things that conventional wisdom says will be tricky to grow in the UK. But Sally has managed it, so one day I will too!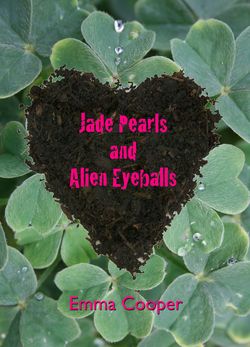 The book features interviews with over 20 different plant enthusiasts. Some of them will be familiar to the reader, such as Alys Fowler and Mark Diacono. But the majority are surely only known to the real cognoscenti: people like Sally, Stephen Barstow (who manages to grow an incredible collection of edibles, despite living in the darkness of a Norwegian winter for much of the year) and Soren Holt, seed saver and plant breeder from Denmark.
Are there too many unsung heroes in the plant world?
Oh, definitely. If you have a book on your shelf, it has the author's name on it, and often acknowledgements, and all the publisher's information. A film doesn't go out without everyone who has played a role being credited.

But a plant in your garden? If you're lucky, then it has a label on it, so you know what variety it is - if you didn't plant it yourself, then it may not. But no one knows the history of that plant, who created that variety. And the history of who brought which plants to the UK for the first time is a little murky, to say the least.

We know about some of the famous plant hunters, but there are far too many unsung heroes and plant breeders who go unrecognised.
Do you think we put too much emphasis on celebrity in horticulture?
Big names sell, of course, so it's not surprising that there is an emphasis on the famous faces of horticulture. It's hard for unknowns to break into garden writing; garden design might be easier.

Of course, anyone can become a plant breeder or a gardener, but as you say - they are all unsung! I would like to see the emphasis on the plants, rather than the people, but I don't think that's going to happen any time soon.
Emma seems to have her finger on the pulse, bringing this book out at a time when unusual edibles like oca are rousing interest around the Internet, perennial vegetable planting is on the rise, and James Wong's seed collection with Sutton's encourages experimenting with edible dahlias and fuchsias. One wonders if it will last.
Unusual edibles are getting to be all the rage – how far do you think that this fashion is a flash in the pan?
I wish I had a crystal ball, because that's the only way to answer that question. Yes, unusual edibles are in vogue within a certain section of the gardening community, and certainly the plants and seeds are easier to get hold of for some things at the moment.

The Victorians were very good at incorporating new plants into their gardens, and in some cases would work for years to find out what conditions they needed, or to breed a new variety that would thrive here.

Most gardeners these days try something once, or twice, and then if it doesn't work they give up and move on to the next thing. So I think we need to redevelop our tenacity a little bit if unusual edibles are going to get less unusual.
What do you hope Jade Pearls and Alien Eyeballs will inspire in your readers?
Curiosity! So many gardening books present themselves as the one true gardening manual you need to have on your shelf, and it's absolute piffle. There are thousands of edible species across the globe, and you'd be hard pressed to even print a list of them in one book, let alone where they come from and how they grow.

When people read Jade Pearls and Alien Eyeballs I want them to think, "Ooh, that's interesting, I want to find out more about that," and then go and do some of their own research.

We've come to rely too much on 'experts' and not enough on ourselves. Unless you're just starting out, or you've just started a new garden, then the person who knows the most about your patch and what will grow well there is you, and people tend to underestimate that knowledge and experience.
I couldn't agree more. Here's wishing Emma all success with her book and thank you, Emma, for dropping by.
Catch up with previous visits on her book tour at Garden Deli: Excellent modern plants for the British kitchen garden and The City Planter: Spice up your pots with some unusual edibles and keep up with the tour through the month via Emma's Facebook page.
The book can be ordered from Amazon.