You might disagree, but I think sculpture makes a garden. Of course, it's got to be the right one. No point in something tiny getting lost in a landscape, or something huge overwhelming a corner. Usually I like there to be at least a tenuous link to the setting - no Easter Island heads next to the climbing rose (OK, I admit, I'm guilty of this one, but I was young...)
A recent visit to Compton Verney, though, highlighted garden sculpture from a different angle: the atmosphere it creates. A row of eighteenth-century philosophers are a calm accompaniment to a contemplative walk. Animal sculpture implies a wildlife haven (I hate it when you see something like a bronze stag in the middle of a short-mown lawn). But what does this do?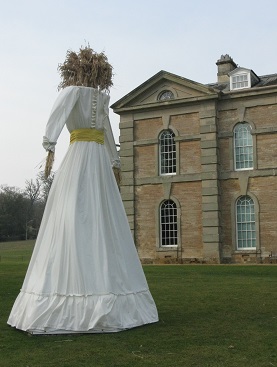 Kern Baby by Faye Claridge is a five-metre high corn dolly. It's inspired by photographs taken by Sir Benjamin Stone who recorded festivals and customs in the UK around the turn of the 20th century:
Faye then took the idea of children gathering around a Baal fire (a bonfire lit on St John's Eve)...
and created an amalgamation of the two:
If you've seen the film, I'm betting you're now thinking of Edward Woodward and The Wicker Man. It's difficult not to.
(If the trailer doesn't play, see it here. If you're looking for a film to watch to mark the passing of the late, great Christopher Lee, this wouldn't be a bad choice.)
Is Kern Baby really threatening, though, or are memories of the film responsible? I couldn't make up my mind. However, it's interesting that Robin Hardy*, director of The Wicker Man, is quoted as saying:
"Everything you see in the film is absolutely authentic. The whole series of ceremonies and details that we show have happened at different times and places in Britain and western Europe...The wicker man itself is quite real...What we hoped would fascinate people is not that they would think these things are still going on in Europe, but that they would recognise an awful lot of these things as sort of little echoes from either out of childhood stories and nursery rhymes or things they do at various times of the year."
Kern Baby certainly changes the scene at Compton Verney.  Here's the view in one direction from near the house: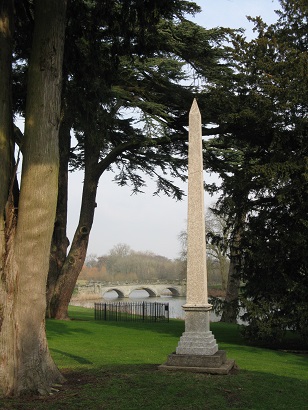 Very ordered, rational and classical. Here's what you see in the opposite direction: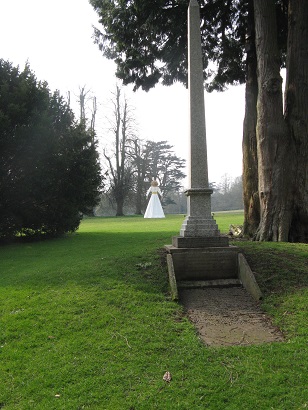 Do you get a frisson too?
I asked Faye if she herself felt there was a sinister edge. Stone's original Kern Baby image certainly jumped out at her when she saw it but, Faye said, the technical aspects of her production had involved her too much for her to feel anything but familiarity.
She did, however, take her children, aged three and five, to see it and was completely unprepared for their reaction. It was getting dark and there was a full moon; I think I'd have been spooked too. Faye said, "They didn't like her at all. 'Why doesn't she have a face?' they asked."
Reception-age children, in daylight, had no such qualms. Faye has said: 
"She is a great example of how disguised or 'faceless' figures raise awareness of our most common and unconscious form of interaction and judgement-making and make us question how we relate to others (in the past and present)."
Which, don't you think, sounds rather PC. Questioned further, Faye left socio-political phrases behind. Beyond cultural film references, she said, Kern Baby taps into something far deeper. There's something oddly unsettling about the figure. She's not human, but she's dressed in human clothing. She's called a baby, but obviously isn't. Which all chimes nicely with Robin Hardy's description of ritual above.
For me, she seems all the more sinister for being at odds with the Palladian setting. It is mysticism confronting rationalism. In fact, from certain angles, Kern Baby gives the Palladian mansion the dimensions of a doll's house: paganism seemingly overwhelming rationality.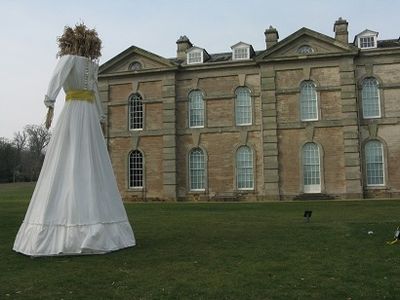 A giant corn dolly isn't something that most people will want to emulate in their garden, but creating a mood in total contrast to the setting is an intriguing option. Not easy to pull it off but a fascinating dimension with which to play.
Kern Baby will be at Compton Verney until Sunday 13th December, after which she will move to the Library of Birmingham, where related photos are currently on exhibition.
See more on Compton Verney's past exhibitions:
And for the right sculpture in the right place: Placing sculpture in the garden