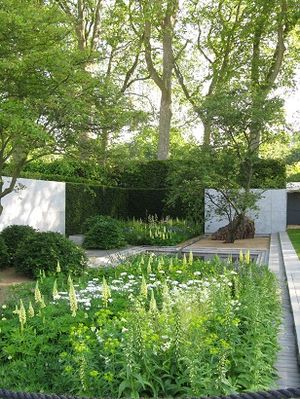 Of course, you'll just have to take my word for it, but, standing on the edge of the Laurent-Perrier garden at Chelsea Flower Show yesterday, I predicted to myself that it was quite possibly Best in Show.
Like Luciano Giubbilei's gardens generally, it didn't give a massive instant hit. At first glance, it didn't even immediately seem like him, as the planting, which included foxgloves, verbascum, aconite and Tellima grandiflora, looked positively rumbustuous compared with his characteristically carefully controlled designs, inspired by Italian classicism.
However, although it's a quiet garden, you only have to contemplate it to find that it's also full of movement. Everything contrasts. Everything has its balancing opposite. All very classical. And very yin and yang.
Water wells up imperceptibly in two circular pools at opposite corners of the garden. Through careful flow control it appears motionless, but the pools feed the rills that deliver the water to the pond in the centre of the garden.
The circular pools not only contrast with the right-angled turn taken by the rills early on their path, but with the rectangular central pond. The ripples, caused by the water pouring from the mouth of the rills on either side of the pond, meet and create a scintillation of light and movement, the antithesis of their source.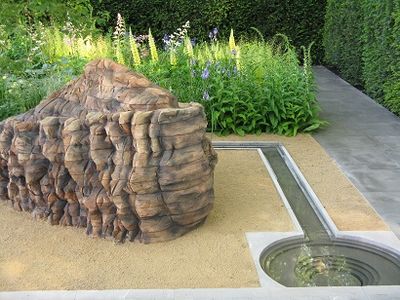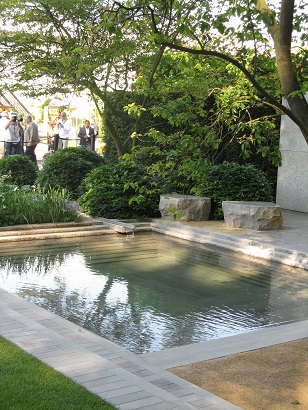 American artist Ursula von Rydingsvard's sculpture of layered cedar echoes the ripples of the pond and its diagonal placing leads the eye into the garden, while breaking the strong rectangular lines.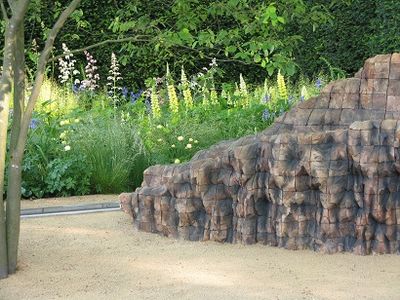 Light and dark panels give a rhythm to the background, the flower spikes are counter-balanced by the rounded shrubs, stone cut with chiselled precision contrasts with the random gravelliness of the aggregate, which itself complements the wooden sculpture placed on it.
All this combines to make this, for my money, the most tranquil design at Chelsea. Just taking time to take in the details has a calming effect.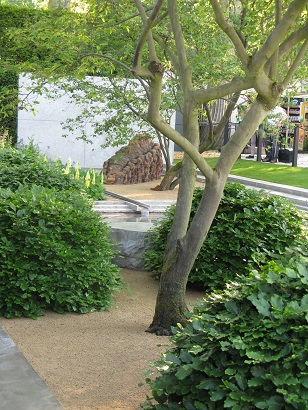 Some people couldn't resist delving deeper, though. Perhaps this underwater photographer is actually praying to the spirit of the garden.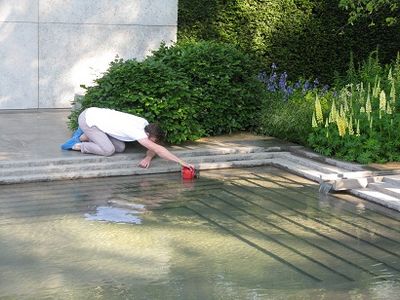 However it takes you, Best in Show was a well-deserved accolade for a designer who has complete control of his designs.
See Landscape Juice for a more general view of this year's Chelsea Flower Show, and to hear an interview with Luciano.