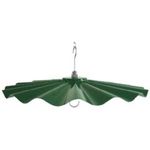 The restaurant next door hasn't exactly closed; let's just say that the menu has been suspended, and I don't mean literally. The nuts in the feeder have not been replenished since the frenzy on the first day of opening.
Still, there are measures that will discourage squirrels from bankrupting a bird feeder and you'll find a good selection on the Dobbies blog which, unlike many blogs attached to commercial sites, is good fun and very readable. And I'm not just saying that because they guested here last week!
In Tips for Squirrel Proofing your Bird Feeder, Rob Plastow lists spicy seeds and spinners among methods to muddle the little munchkins. And there's an excellent video showing the benefits of a greasy pole.
Still, if you've got a bird feeder that's being plundered, rather than buying another, squirrel-proof version, a baffle might be the answer. Presents for Men has a sturdy looking one for £24.99. Hanging it above your current feeder might just "baffle" them into giving up. (If anyone's tried making one with a dustbin lid, let us know.)
Finally, squirrels seem to have more than their fair share of video online. Below is the advert for Carling Black Label from 1989, which still makes me laugh, while you can get more giggles at WebTVHub and Tom Jepson's Funny Squirrels Page, which includes another laugh-out-loud ad, this time for Budweiser.