The problem with opening a new restaurant is that you can't be sure who's going to want to try it. There you were, thinking you'd get a nice selection of enthusiastic gourmets, and what happens?  You get mobbed by gourmands wanting to stuff themselves silly.
Our neighbours' new bird feeder was full at 9 o'clock this morning. These pictures were taken early afternoon.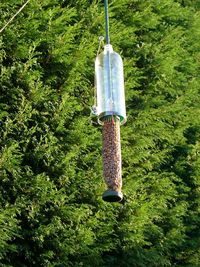 By dusk it was almost half empty. Not a tit in sight all day.
I predict a restaurant revamp any day soon.
This is a problem understood by my brother-in-law, who has spent some time searching for the perfect squirrel-proof feeder. He hasn't had any problems since buying one with a metal sheath that slides down when a squirrel arrives at the top. There's one of this design available from Selections for £13.99.
However if you fancy saving some money, Phil from Surrey gives full instructions for his DIY version (pictured).
And if you want a video demonstration of how the best squirrel-proof bird feeders work, check out this video of the Squirrel Be Gone Bird Feeder.
Oh, and if you have a spare Pringles packet, don't forget this DIY bird feeder that I featured last year.