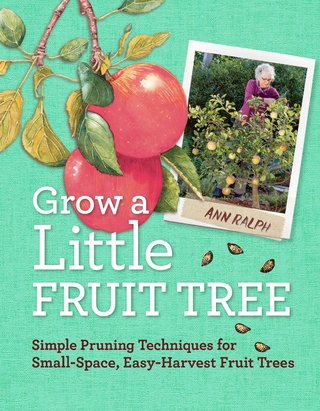 It's not often that a gardening book has me champing at the bit to get out and do something. But after reading the new book by Ann Ralph, Grow a Little Fruit Tree, I was desolate at the thought that I had missed the bare-root planting season.
Ann Ralph is a fruit-tree expert who's spent twenty years in nurseries and teaches pruning in California. What, she asks, is the point of having a large tree that produces so much fruit that much of it plummets to the ground and is wasted? Or why struggle with a tree that is too tall to pick from easily? 
Why, indeed?
Instead, she advocates a series of small trees, pickable from ground level, producing fruit in succession in reasonable quantities as the season progresses.  And so she goes all out to explain, as the subtitle spells out, Simple Pruning Techniques for Small-Space, Easy-Harvest Fruit Trees.  It makes eminent sense and, intending as I have been to have a go at creating my own espaliers, I was hooked by the whole idea.
The book is full of points that I know I'll be quoting to myself when pruning makes me timid.
Fruit trees are healthier and more abundant, not in spite of what we do to them, but because of it.
And, speaking of timidity, here's something to hang on to:
If you don't know what to do, cut some stuff out.
That's what I love about this book; Ann totally understands the paralysis of pruning, when you're standing with secateurs for 20 minutes before putting them back in your pocket and walking away in confusion. She's reassuring about how little damage you can really do. She also knows just how hard it will be when your new trees arrive.  Read the book, though, and you're thoroughly braced for that initial heading cut - at knee height.
Before we look at the reason for such drastic action, what does this book cover? In eleven chapters Ann tells us why we should want small fruit trees; why proper fruit management is good for us, the garden and the trees; why you're better off going for a more vigorous rootstock and relying on pruning, rather than a dwarfing rootstock (which will either give you too big a tree, anyway, or present its own problems).
She covers summer pruning - the key to this method of fruit-tree growing and which is a whole lot easier on a person-height tree. I already summer prune. It's one of my favourite jobs, so I needed no persuading.
She also covers different planting options to bring in the maximum number of varieties. How about planting three trees in one hole and pruning them as if they were one tree?  By the time she's finished with you, you'll be imagining low-branching, head-height trees, beautifully proportioned, brightening your borders in spring and filling the fruit-bowl at a steady pace.
Of course, this isn't a new way of growing fruit - orchards have grown them like this for years - but it's not so often seen in the back garden.
This is a clever book in the way it imparts knowledge. It took a couple of chapters before I suddenly realised that Ann's casual, friendly style had actually handed me a lot of information. Some of it I've never heard before: "Be aware that a fruit tree is still dormant when it's blooming." Some gives you an oh-I-see moment: summer prune too late and a tree will feel it as a winter prune because it's already withdrawing nutrients from the leaves.
The sections that tell you about actual pruning take up only about half the pages. As she says:
This book is not a technical manual - fruit tree management is far less complicated than we have been led to believe.
The pruning chapters cover elementary principles; what to do to shape the tree in the seasons after that initial cut, and four basic pruning rules on keeping a tree as you want it. There's also The Hardest Pruning Cut You'll Ever Have to Make, in which she screws your courage to the sticking place for that knee-high lop which will give you the easy-reach branches and, without which, you'll never have the tree you're aiming for.
Previous chapters cover general points about planting (no soil amendment!) and fruit varieties, and later ones look helpfully at watering (with information useful for all sorts of plants), working with nature to limit pests and diseases (she's a big advocate of promoting health through using worm castings), and when your fruit is actually ripe.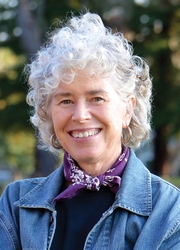 This isn't just about apples and pears. Ann's advice applies to cherries, plums, figs, and some that you're much more likely to find in California: peaches, apricots and persimmons. However, because she deals in principles rather than minute detail, it's a book that's useful everywhere.
The downside? Because it doesn't go in for rigid detail, it can be hard to refind bits that you want to check again. However, (hurrah!) there is an index. 
Espaliers are covered generally, but for total hand-holding you'd probably want to check a more specific tome. Thanks to the wonders of cold storage, I now have a couple of espaliers growing away (more about that soon) and I did want to know exactly when to remove the shoots that have emerged all up the trunks. I suspect, though, if I'd asked Ann herself, she'd have told me it wasn't that critical. In future years, I'll...
...Picture an espalier in your mind and cut off anything that doesn't fit into the picture.
Without doubt, this is a book I'll be coming back to again and again. As it was, when I discovered I wasn't too late for bare-root planting, it fired me with so much enthusiasm that I bought exactly twice as many maiden whips as I actually had space for.
And I'm wondering where I can squeeze in a few more next year.
For more info and pictures, see a Q&A with Ann Ralph And for another review, visit Emma Cooper.
Grow a Little Fruit Tree by Ann Ralph, was supplied by Storey Publishing for independent review. RRP £11.99, ISBN: 978-1-61212-054-6. Available from Hive at £8.85.