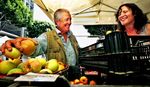 Last month I posted my startling discovery (startling to me, anyway) that cooking apples are virtually unknown in the States. To find out why this might be, I emailed Bill Spencer who runs Windrose Farm in California. Certified Organic and becoming Biodynamic, it's one place that does grow them. Could it be that Bramleys are not to American tastes?
Bill replied, "The short answer is that we know of over five or six thousand varieties of apple that once grew in the US and now the 'corporate Industrial Agricultural System' that is pervading the planet sells fewer and fewer, maybe six or eight varieties."
Bramleys, he says, do very well there and are, indeed, greatly sought after, but like most 'heirloom' varieties they don't fit the 'corporate' needs, not being uniform or ready all at once and having different management needs from all the commercial apples.
Sadly, we can't hold our heads any higher in Britain, even if we have preserved our national taste for 'cookers'.
Visit
Orange Pippin
and you'll find a long list of apples that most of us have never heard of, let alone tasted. And back in 2006,
Paul Kingsnorth
, writer, poet and past editor of the Ecologist, wrote this in an
article for the Daily Telegraph
:
"Since World War Two, almost two thirds of Britain's orchards have been lost. Regionally, the picture can be even worse. Over the same time period Devon, Kent and East Anglia lost a breathtaking 90% of their orchards…

"Orchards are disappearing for numerous reasons, but one of the main culprits is globalisation. Supermarkets, which sell 70% of Britain's apples, will rarely sell many, if any, local or even national apples, preferring to import a few standard, chilled, out of season varieties from New Zealand or South Africa."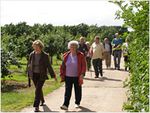 All is not yet lost, however. Not only is there Brogdale, Kent, which holds the National Fruit Collection (guided tours and special events throughout the year), but there is growing interest in growing these apples for the domestic market.
One such company is Bernwode Fruit Trees in Buckinghamshire, who collect, conserve, grow and sell an astonishing number of traditional British varieties. They're always interested to hear from anyone with information of old orchards and varieties. As they say, "They are fast disappearing and time is pressing." A detailed description of their work is found at their old website Bernwode Plants.