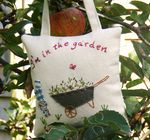 As the days get longer, and we spend more time in the garden, does your family have difficulty tracking you down? If you're lucky, you've got a house that you can get lost in and a garden to match.
To maintain communication, you could invest in some walkie-talkies – my husband and I have found them very useful in supermarkets, although you do attract some strange looks (saying, "I'm by the frozen peas, over," just makes you feel silly).
On the other hand, here's a charming, lower tech, quieter solution from Pipany. Hang it on the back door knob, and at least they'll know not to trawl the upper floors for you.