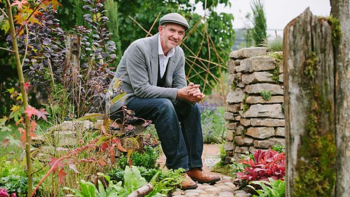 Did you watch the Great Chelsea Garden Challenge? Do you think it worked well? Tuning in to catch the second half of each episode, I thought it was great fun.
Not everyone agrees, though. There have been rumblings in Garden Design world, as reported by the Mail Online a couple of days ago. It denigrates garden design, is the general grumble. Janine Pattison, award-winning designer and well known on the seminar circuit, said it trivialised garden design, gave the impression that anyone could do it and implied that it disrespected the years of study and hard work put in by professionals.
Personally I couldn't agree less, any more than I'd say the amateur Masterchef series, The Great British Sewing Bee or The Great British Bake Off take away from professional achievements. They show how difficult these things are to do to a prize-winning standard and give an appreciation of the thought and effort that goes into doing them well.
I sniff professional insecurity in the criticism. It's a common reaction - by all professions - to claim all knowledge and ability for themselves. Which is silly, as you only have to go around local art festivals (and watch TV) to know that there are innumerable very talented amateurs in many different areas of art and design.
Still, not all the Garden Design world is acting so defensively. Andrew Fisher Tomlin, Director of London College of Garden Design and RHS Judge, has said, "The new series is a great way of highlighting careers in garden design and can only lead to encouraging new people to come into the profession." He's rather pleased, of course, because competitor Paul Harris is one of his graduates.
I suspect that much of the grumbling has been activated at the thought that a space on the Main Avenue at Chelsea will be taken up by the winner's garden. Certainly, designer Roseanne Rosewarne is quoted as saying that reserving such a site for the winner is hard on the professional designers.
Fisher Tomlin added, "There have been some negative comments from parts of the profession, but most have come from designers who have never taken up the challenge of exhibiting a show garden. Generally, we have found overwhelming support for the RHS in highlighting garden design as a career and for taking a contemporary approach to getting people to train to be a garden designer."
I'm really looking forward to seeing what Sean has produced. He's completely self-taught but obviously talented. A self-taught flower arranger, he recently passed his NAFAS (National Association of Flower Arrangement Societies) demonstrators test.  His garden will be on the spot where Alan Titchmarsh had his last year (not a huge space) and, because he's briefed by the RHS and it is, therefore, an RHS garden, no, it won't be part of the official judging process.
That's a shame. It wouldn't have been ethical to pass judgement on their own garden, and perhaps that's just as well for an amateur's blood pressure. But you can't help thinking that it would always have been considered too dangerous or too tactless to include it.
For related thoughts on professional v. amateur designers: Tim Richardson's discussion on Thinkingardens