As you may have spotted over the years, I'm a pushover for a good cartoon. I've even commissioned one as a present for Husband. You can't get much better, though, than many that appeared in Punch over the decades. Some of the very best cartoonists of their day contributed, including one of my favourites, Thelwell.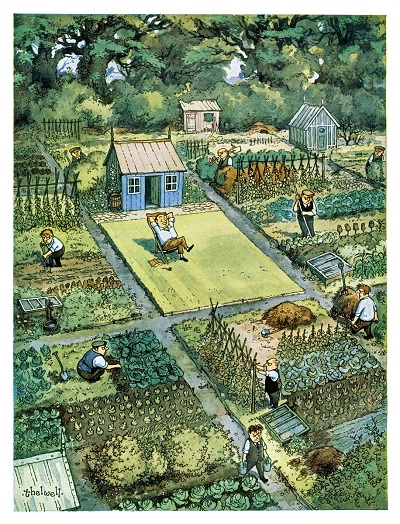 This one makes me laugh every time. It's the total oblivion of the sunbather to the glowering looks of his fellow allotmenteers that does it. Thelwell had a real feel for gardeners, as he showed in Up the Garden Path, a book that arrived in my Christmas stocking some time in my childhood.
Speaking of Christmas, wouldn't a gardening cartoon make a super present? (I wouldn't mention it, but I know that visitors are already arriving at Weeding the Web via "Christmas" searches.)
That being so, I'm really pleased to be able to offer a 20% discount on all Punch print products with the code at the bottom of the page.  There are plenty of gardening subjects to choose from (click on the picture above to go straight through to that).  All the images are available as archival quality prints on good quality, thick textured paper and are giclée printed. You could even go the whole hog and go for ready-to-hang canvases or acrylic prints.
The discount is available on all print products, even if (gasp!) you find a cartoon you'd like with a different subject matter.
Just enter the code NOVEMBER when asked for a coupon code in your shopping cart. The offer continues until November 30th, and I'll post a couple of reminders before then, which will also give us the chance to chortle over the gentle humour of a couple more cartoonists.