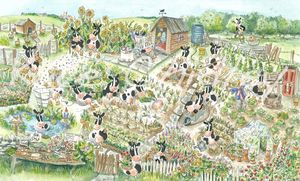 Last week I visited the Country Living Christmas Fair – all in the cause of research, you understand.
It's a long-standing annual event at the Business Design Centre, Islington, and, never having been before, I was totally unprepared for its vast size and the enormous number of stands selling everything from clothing and food to soap and calligraphy.
Naturally, I kept a sharp look-out for anything gardening-related.
Kate Chidley produces fun illustrations, many of cows and sheep enjoying human activity. The print that caught my eye was The Good Life, the "Cowtoon" (ouch!) pictured, set on an allotment, and available in different sizes at around £25.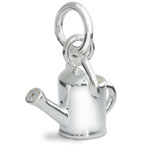 A charm bracelet was certainly something I'd have adored as a child, and a grown-up version could include some of the cute gardening charms from Scarlett Jewellery. They also sell a variety of suitable bracelets. Of course, you could buy them all at once, but at around £35 per charm, starting a bracelet could to tide you over in the present-giving department for several years.
Staying with jewellery, Michael Michaud uses bronze, silver and gold to creates rather gorgeous necklaces and pendants based on flowers, fruit and, my favourite, beans and peas.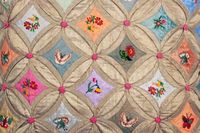 Finally, Joanna Smith-Ryland creates rather lovely cushions and bags in silk patchwork. Her Garden Collection features Cathedral Window patchwork embellished with embroidered flowers and butterflies. They're not cheap, but they are gorgeously sumptuous and you could commission anything from a bedspread to a waistcoat in the material.
To enjoy a similar design in pink at a more everyday price, you could plump for her Garden Collection cotton tablemats which are printed with the silk design. A set of six costs £38 and is machine washable.
Another Country Living Christmas Fair is taking place in Glasglow 17-20th November.