My main tomato crop this year, as some of you may remember, has been Gigantomo, the tomato that, with care, promises to grow to gigantic proportions.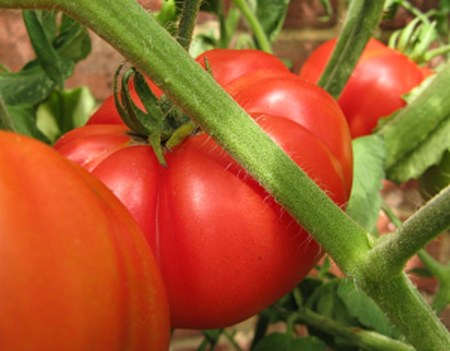 That was never going to happen for me. My heaviest tomato so far has weighed in at 12 oz, nowhere near Joe Atherton's 1.755kg (3lb 13.9 oz) winner in the Heaviest Gigantomo Tomato Class at Harrogate Autumn Show this weekend.  A man who appears to possess the stoicism demanded by growing giant veg, he's looking moderately pleased with his £1000 reward in the video below, where he discusses how this came off a late-sown plant with the fruit set on the first truss :
(If you can't see the video, visit it here.)
As I didn't pare down the harvest to one per plant (though they pretty much thinned themselves down to one per truss), the fruit vary quite substantially in size, which is no bad thing when you have different needs for different recipes.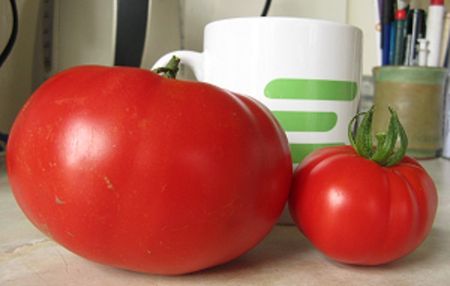 As you can see, the flesh is very dense, with few seeds. I was fairly sure it wasn't going to have much to offer taste-wise, but I'm glad to say I'm wrong.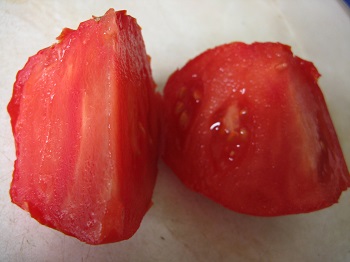 Some might say it hasn't quite enough acidity, but I'm rather a convert. Kept out of the fridge, it's got a full, sweet tomato flavour and not only goes well in salads, but cooks down to a really lovely sweet tomato sauce. I simmered slices of courgette with it and really didn't need anything else apart from a bit of salt and pepper. 
My plug plants were supplied by Van Meuwen and I think this is one that I'll definitely be growing again.