It's one of the most seductive parks I've visited. And it was all the more enchanting for being so completely unexpected.
When Husband and I went train-touring last summer around Germany, gardens were the last thing on my mind. All the more so, since I don't think I have ever heard Hamburg mentioned in any horticultural connection whatsoever. How wrong could I be?
First, though, if you haven't visited Hamburg, may I humbly suggest you reconsider? There's so much to see, and something for just about every interest.  A boat trip round the port takes you close to big industry:
It has more canals than Venice (though, sometimes you wonder where doesn't, given how often this old chestnut turns up), with charming restored warehouses and buildings.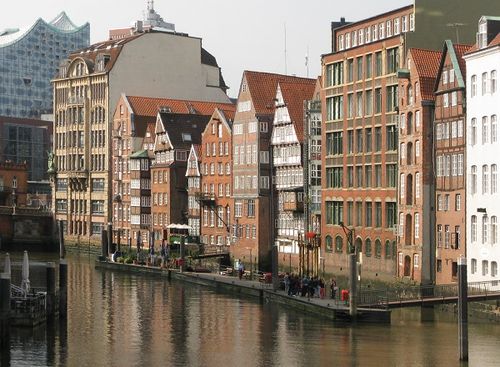 The world's largest miniature railway...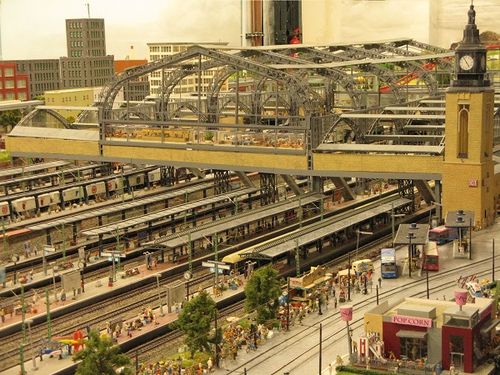 ...where you'll even find a miniature garden centre:
Lots of museums, galleries (we only managed the beautifully presented and extensive Maritime Museum) and churches to mooch round and, when you're done with those, the lakes formed by the River Alster offer some lovely areas for leafy escape and a super walk that could easily take most of the day as it passes plenty of interest...

...and quite a few cafes by the water.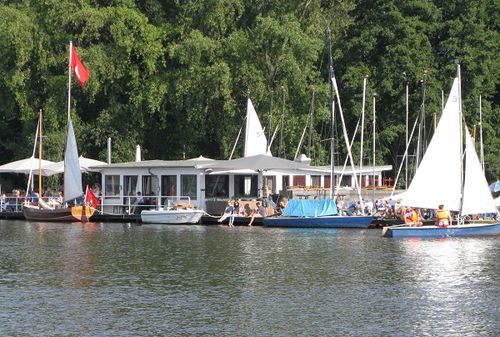 But what about the garden? The entrance was literally adjacent to our hotel and we didn't realise what we'd missed until it was too late to do it justice. (How embarrassing is that?)
Planten un Blomen, Hamburg's public garden
Planten un Blomen (that's Low German, in case anyone wants to pick me up on the spelling) started, in 1821, as a small botanical garden built on a redundant open firing range. By 1857 it was designated a state institute, and by the early 20th century it had acquired a museum and expanded to 10 hectares. It went through quite a few changes (World War II didn't help) and, in 1979, with the opening of the Institute of General Botany and New Botanical Garden, the original area was incorporated into the huge park which today covers 47 hectares (approx 116 acres).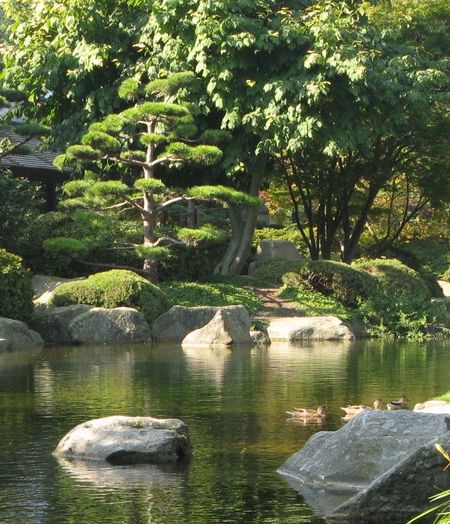 The first part we encountered was the Japanese Landscape Garden (said to be the largest in Europe). In 1988 the designer Yoshikuni Araki used existing trees, new plants and rocks to create an idealised riverscape. The 150-metre stream is kept moving with underground pumps. 

Somewhere there's a Japanese teahouse, where ceremonies take place regularly in summer. (Yup, we missed it.)
Everywhere you look an enticing view beckons you in a different direction - to a shady plateau...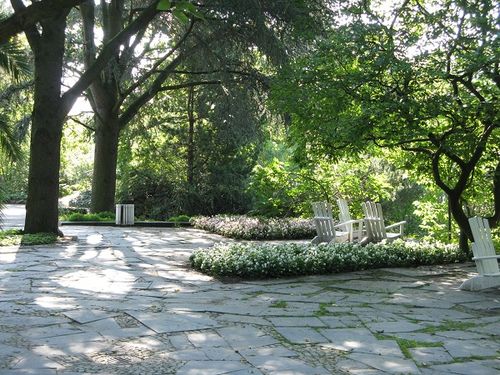 ...overlooking water. One of the cleverest touches, I thought, is the choice of furniture, the large Adirondack chairs, painted white. They suit the scale of the space and create a highlight that is architectural but also looks comfortable and welcoming to dawdlers.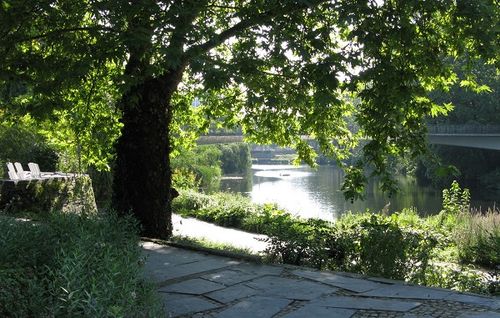 Peaceful seats, tucked away...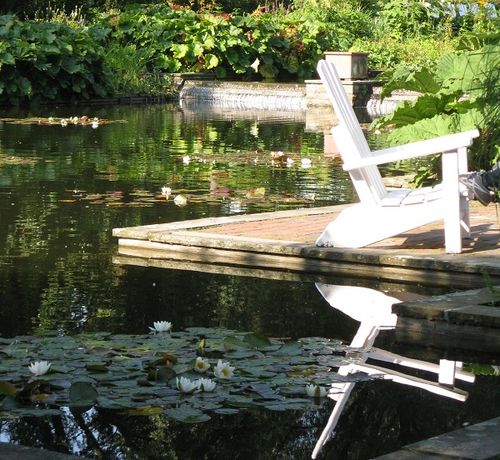 ...and thoughtfully planted vistas...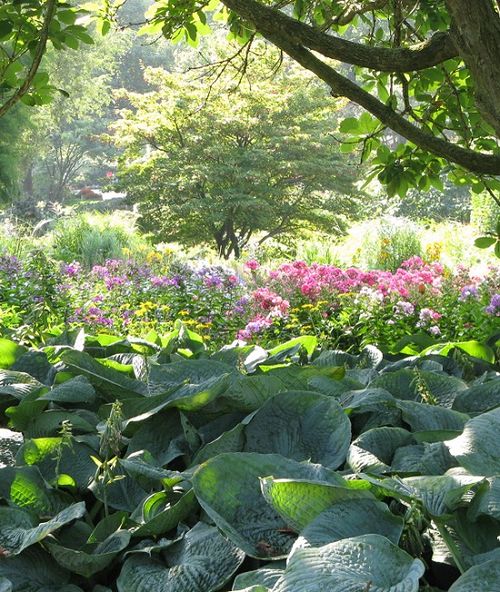 ...though, in some places it's a bit too Piet Oudolf for me, (but the several cafes looked enticing)...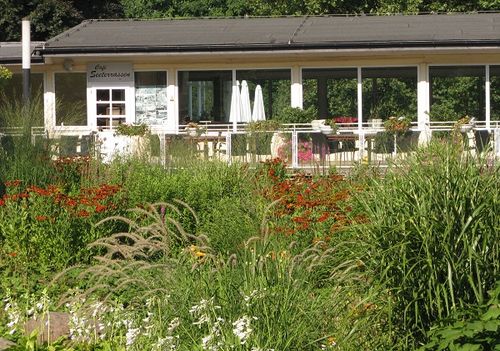 We found unexpected playthings:
Lots of sculpture: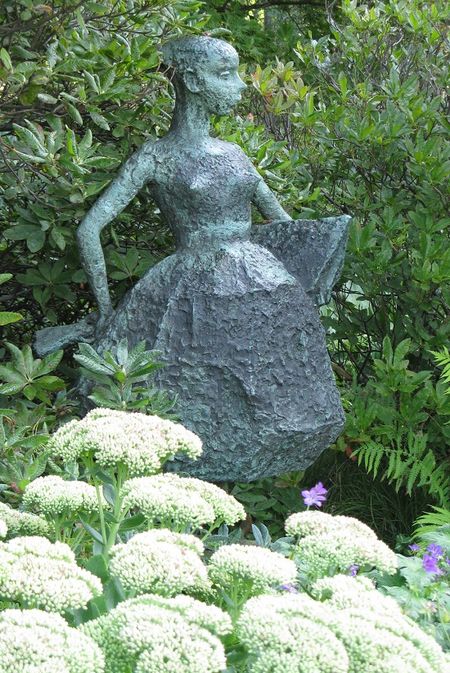 A rose garden...
  ...though it majors on a lot of other blooms too.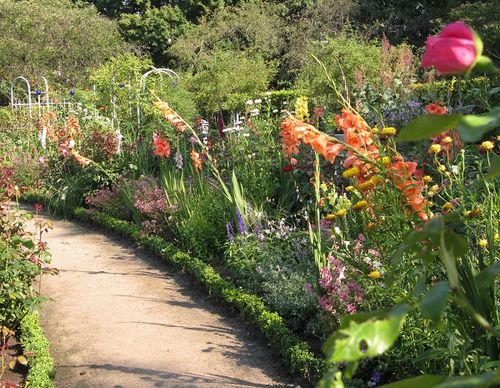 There are colourful corners...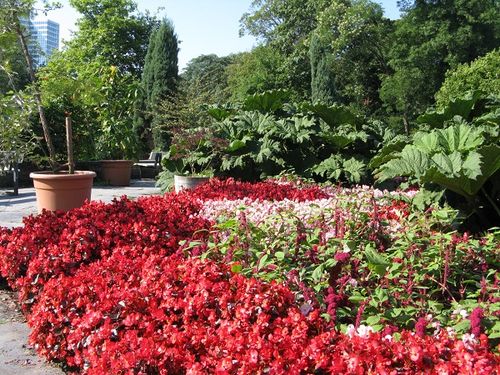 ...and, always a fascination, the tropical greenhouses. Nothing like Berlin's, of course...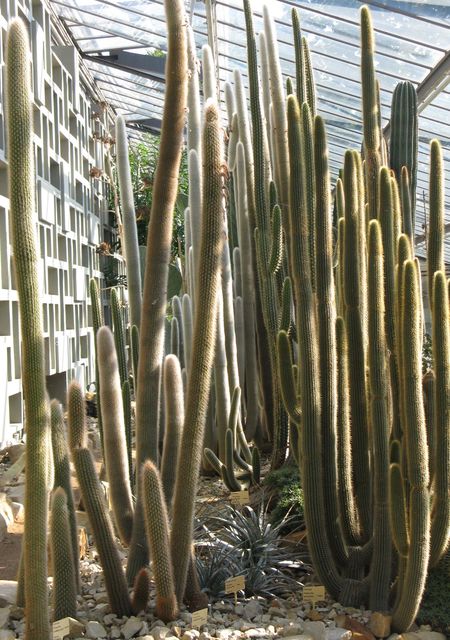 ...it's quite small, but an interesting piece of architecture: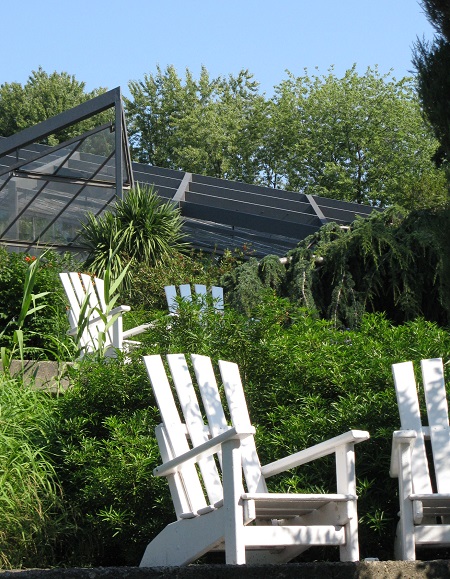 And here's something we missed, along with the Wasserspielen, the Mediterranean Terrace, the Rollerskating Rink, the Minigolf, and the Kleine and Grosse Wallenlagen (Small and Large Ramparts, no doubt left over from pre-garden times):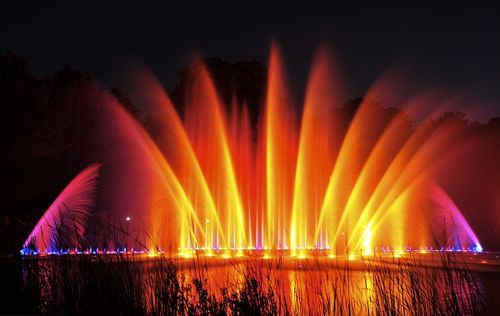 Every evening there's a sound and light show at the Parksee (lake). TEN MINUTES WALK FROM THE HOTEL AND WE MISSED IT! 
There's always a danger, when encountering somewhere unexpected, that you'll imbue it with much more than it deserves, merely because it is such a surprise. But I don't think I've done this with Planten un Blomen; this really is a lovely park, which manages to be both homely and interesting. Even better, it's clearly well used and loved by the locals, who retreat there on summer evenings, take children for pony rides and attend the free concerts.
If you haven't ever thought of Hamburg as a place to visit, I really recommend it. The port, the canals, the old warehouses, the museums, the lovely Alster lake - they all combine into a holiday experience that gives Hamburg a character all of its own.  The locals were incredibly helpful - every time we opened a map someone asked us, in English, if we needed help. Whatever you do, though, DON'T MISS THE GARDEN.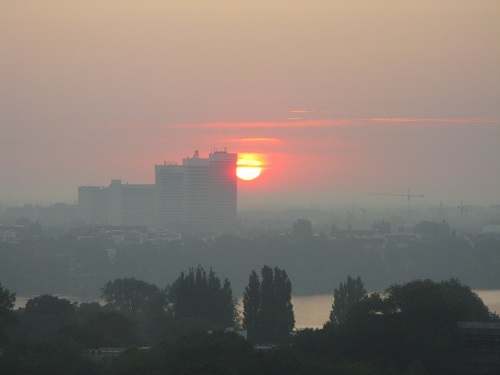 NB. We stayed at the Radisson Blu, next to Dammtor Station. It's a tower block and very corporate, but had good deals on Expedia, was quiet, comfortable, within easy reach of the main attractions (AND THE GARDEN) either on foot, by bus or underground, and offered an extraordinarily extensive and really excellent breakfast. Our room was on the eastern side, which is my excuse for our not spotting the gardens and Sound and Light show to the south. All I can say is, well, we did see the sunrise...
Is there a garden that you've completely missed by accident?