Tell people you're going to Liverpool for a short break and it soon becomes clear that the standard response - at least, down here in the benighted and slightly superior South - is "Why?"
Which, I have to say, reflects more on the speaker than the city. We've just come back from our second visit in two years. If you haven't been yet, you're missing a treat.
We'd returned to mop up sites we didn't have time for last time. But we'd also added one: The Palm House, Sefton Park, which featured in Dan Cruickshank's very enjoyable Britain's Park Story on BBC4 back in April.
Sefton Park is one of those extensive parks we love but rarely create. Its 200 acres are filled with curving paths by cool borders, under shady trees, with large grassy areas for picnics and games, a boating lake, tennis courts, children's play area and a café. 
The park itself recently gained Grade 1 status from English Heritage.  Its design is pretty much unchanged since its opening in 1872 when designer Edouard André was the first to introduce French park design to England.
And, set in its own little enclosure, is the Palm House, opened in 1896. This, of course, extended the season for the Victorians and offered somewhere to promenade in wet weather. Back in the nineteenth century, it housed various water features and the warm air would have been filled with the sound of running water and thick with the scent of lilies.
I'm afraid the water features have gone, but we're lucky the whole structure hasn't disappeared. The Palm House, every bit a prey to the cuts in public spending as any other civic amenity, fell into disrepair and, with the danger of glass panes crashing to the ground, closed in the 1980s to threats of demolition. 
Local support gained a partial repair and reopening in 1993. More campaigning secured funding from the Lottery and English Heritage and a fully restored Palm House reopened in 2001.
And thank goodness it did. It's a glorious space, especially in the late afternoon sunshine that graced our visit.
Luckily we didn't have a smartphone with us to check  opening times, or we wouldn't have gone. Normally it closes at 4 pm but, throwing down our bags after arriving at the hotel, we hurled ourselves onto a bus and eventually (having no map) arrived on spec to find that a private view of artwork from a local college was keeping it open till six.
In the normal way of things, I could have done without the adornments, but as they were the reason we gained entrance, I couldn't really complain.
I thought at first that this was an Indian maiden, posed by the Asian border, but she turned out to be Highland Mary, a popular subject for sculpture in the 19th century.

Around 300 plants from 50 countries are housed in the Palm House: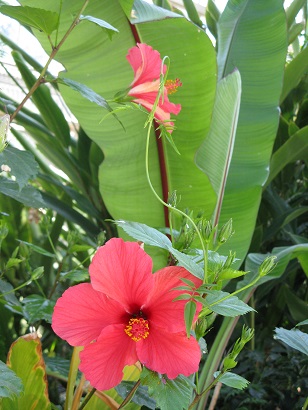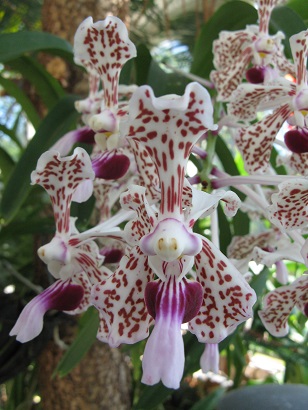 But for all the exotic flowers, it's the Palm House itself that is the real star.  I was sorry that this overhead walkway was firmly closed to the public.  That would have been a great view.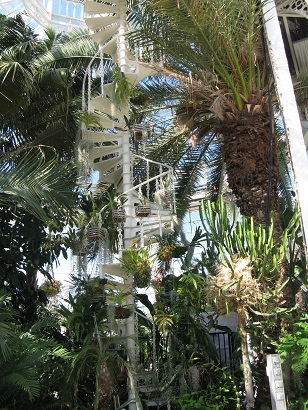 A Grade II* glass cathedral, 25m high, with 3710 flat panes of glass, all individually cut. Three cheers for the Victorians and a sense of civic pride: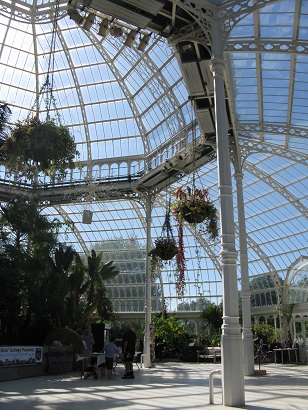 If you are staying in Liverpool, take a bus up the Aigburth Road and get out at Lark Lane. This is a delightful approach to Sefton Park, full of bistros, delis and boutiquey shops, and a great place to grab lunch or an ice-cream before enjoying the park.
For pictures of the transition from dereliction to restoration, see Sefton Park Palm House Anniversary pictures from BBC News Liverpool.
Julian Pettifer's three-part BBC Radio 4 series on The Age of the Park from 2004, on the history and prospects of public parks, is still available to listen to.