A large, floppy picture hat, trug on one arm, and the bedewed sunniness of a summer morning. That's the image of a cutting garden for me. And due to remain only an image. Hah! I'm pleased to have colour in the beds, without stealing it for the indoors. 
Not to mention the hard work. If you want an idea of the complications arising from trying to produce cut flowers regularly, then you can catch up with Michelle's attempts for her mum at Vegplotting. Which is where florists come in.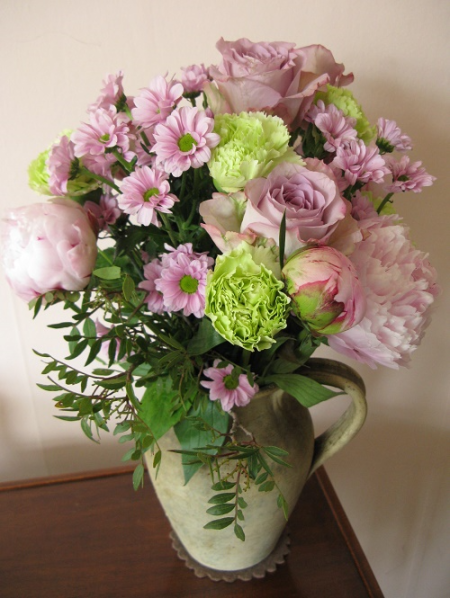 It's taken me a long time to appreciate the small pleasures of life. At university I was bemused to see fellow students (female, of course) going home with a small bunch of flowers. Fancy, I thought, spending money on something so unnecessary. And which would be dead in a few days.
I was wrong. Small moments equal small pleasures. And small pleasures accumulate into gracious living. So I was delighted when Prestige Flowers asked me to review a bouquet of their choice.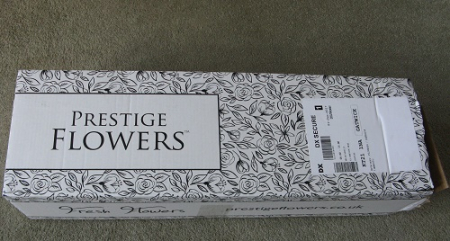 The flowers arrived in excellent condition. In transit, the bouquet is kept damp with plastic backed water-absorbent material and double-wrapped in plastic "tissue paper". They're in a box that's the right size, and tied to it, so they arrive with everything in place, dampness contained and securely held.  They come with a sachet of flower food and, these being the Vintage Peony bouquet, a small box of four truffles, which were very good. Quite a few of their bouquets offer the addition of free chocolates.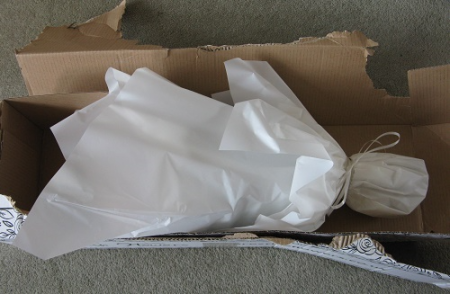 The Vintage Peony colours took me by surprise. A muted combination of dusky pink Memory Lane roses and what I'm fairly sure are Sarah Bernhardt peonies, although the website describes them as Bernard (anyway, they're big, blowsy and pink) and pale lime-green carnations with sprays of Santini chrysanthemums (Zantini on the website), they're a more polite colour combination than I'd normally go for, but they did tone rather tastefully with the colour of the walls. 
The peonies came in a nice combination of tightly budded and fully open, which meant you weren't waiting for the whole bouquet to come into its own, and the roses and carnations still had opening power in them.
What I particularly liked was that the leaves had already been removed from the lower stalks, so you didn't have to spend time stripping them off. This is a thoughtful point. If you allow leaves to sit in the water, it can reduce the life of the blooms. For more tips, read my Top Tips to keep cut Flowers Fresh.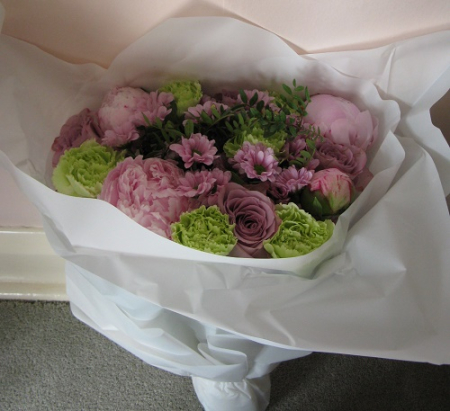 The bouquet also comes with a helpful leaflet explaining how to keep them looking good, and I admit I neglected the instruction about trimming the ends every two days - that should have been Sunday. They arrived on Friday morning and on Monday most of the roses were looking limp, along with one of the peonies. So I followed instructions for drooping roses and plunged their ends into boiling water for 30 seconds. It didn't work on this occasion and the roses were jettisoned. I personally wasn't too disappointed, purely because that dusky rose colour doesn't do a huge amount for me, but I don't think you'd be unreasonable to hope that they would last longer, cutting the ends or not.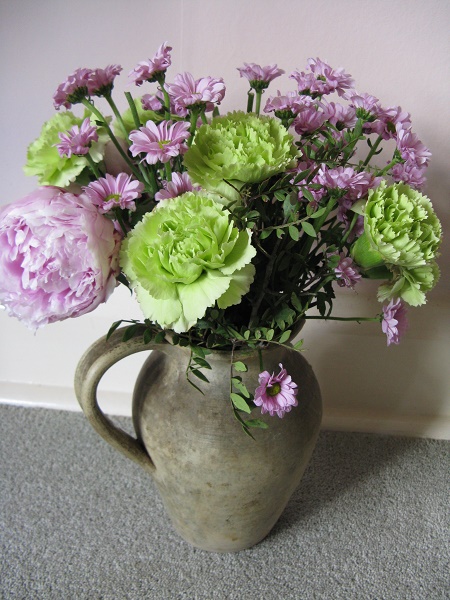 By the following Wednesday, five days after arrival, I had the above, and they're still going strong. There's no doubt that having fresh flowers somewhere in a room just lifts the feel of it. It promotes enjoyment of life, of the little things, of gracious living.  
Prestige Flowers provide all sorts of arrangements, from flowers for birthdays to boutonnieres and corsages.
You might also enjoy my post about NAFAS's Lonely Bouquet