One idea I fell for earlier this year, when offered samples by Vernon Nursery, was a pot of climbing geraniums. Arriving promptly in April, five small pelargoniums found themselves in my slightly dubious embrace. Would they really climb?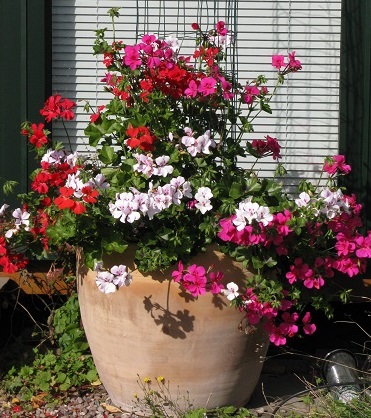 The variety - Gerainbow - come in white, neon, deep red, orange and pink. (The pink is missing above, as Husband nabbed it for his father's garden.) And, of course, they're not true climbers. They grow long main stems which you tie in to the support. The lower stems, as you can see above, will trail up to around two feet.
Of course, mine didn't make it anywhere near the six feet they're said to be capable of, but I do wonder if they'd have managed a bit higher if I'd stopped fiddling with them.
The plants came with a tip:
Whilst the plant is putting all its effort into growing I suggest you remove all flower buds as they appear to encourage faster growth - this is so hard to do as you want to enjoy the flowers too, but it will be worth it in the long run! Once the plant is at its desired height, stand back and let it bloom.
I was a little tardy in beginning this and [hangs head in sorrow] let them all flower - they just about all arrived with buds on.  Then, I pulled myself together, planted them in a tub filled with a mix of garden soil and Incredigrow compost, with Incredibloom slow release fertiliser incorporated, and started to pull off the flower buds. I became quite ruthless.
I pulled them off for weeks. They grew, a bit. Eventually, fearing I would run out of summer before they ran out of tower to climb, and knowing I was going to be away for ten days anyway, I gave them their head in late August.
They exploded into flower and have continued nonstop. They're still looking pretty good now, in November. I also swear they reached higher than when I was being beastly to them. They've not exactly rocketed, having stalled at exactly two feet high, but they've produced a superb show.
The bright colours won't be to everyone's taste, but their lovely splash draws the eye and I love them. The only criticism I'd make of the colours is that the orange and red aren't noticeably different, especially from a distance, so if you needed to split them up I'd certainly keep those apart.
I rather like Vernon Nursery, who make a point of selling plants suitable for British gardens. Everything I received this year was glowing with health and plants are accompanied by very thorough (and sympathetic, as you can read above) instructions - particularly strong on geraniums - which even include how to take your own cuttings.
Anyway, these geraniums will most definitely be kept for next year, when I'll try them in a different compost, give them a more direct feed to encourage early growth, and trust they'll have got a better hang of rising to the occasion. Especially if I don't confuse them with on/off flowers.