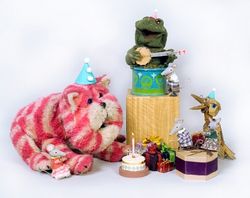 Remember Bagpuss? I must admit, he was never a favourite, but I know I'm in the minority. In 1999 the floppy cloth cat was voted all-time favourite children's show by 40,000 BBC viewers.
Well, tomorrow, 12th February, is Bagpuss's 40th birthday. He was, of course, a creation of Oliver Postgate and Peter Firman (who realised the sets and characters in a 30-year partnership with Postgate) and, while Bagpuss didn't strike a chord for me, their other creations certainly did. Noggin the Nog, Ivor the Engine, The Clangers, Captain Pugwash, Pogle's Wood - all recall the delicious comfort of Postgate's reassuring mellifluous voice.
Still Bagpuss is a good representation of all the Postgate/Firmin creations. In his memoir Seeing Things (quoted from in his obituary in The Independent), Postgate wrote:
"From a distance of the 25 years which have passed since we made the Bagpuss films, I have begun to be able to see how they earned that affection. They are simple, and they are well-founded in a safe place. They are full of fun and, like a good meal, they are rich and satisfying. They also stretch the mind and flex the imagination. And the songs and the pictures are marvellous."
For a quick wallow in nostalgia, here are the opening titles:
(If the video doesn't appear in your reader, then click through to the blogpost to watch.)
Rather than wallowing in nostalgia in front of your screen, however, you could celebrate by growing your own tribute in Dianthus Bagpuss. You can see how it got its name - someone obviously had strong memories of the cat's pinky stripy coat.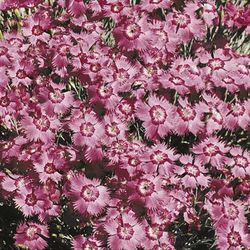 According to Sutton's website, it forms spreading mats of narrow, evergreen foliage, topped in summer by masses of scented rose-pink blooms. Ideal for rockeries, dry stone walls, roofs or in pots on the patio. Strongly scented of cloves, it's a hardy perennial, 20-25cm (8-10").
Of course, we tend to sow perennials to flower the following year (sow May to July this year, for May to July flowering in 2015) but you could sow them under glass now for flowers in August/September.
You'll be in good company if you do. Sutton's report that they recently received a letter from Peter and Joan Firmin (Joan helped make the Bagpuss characters, and knitted the Clangers) who will be growing it too.
I have to admit I won't be. But they do sell some rather colourful Clangers...
For more on Bagpuss see the BBC's Cult TV website.