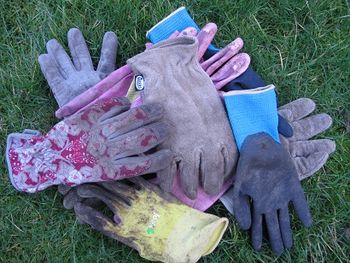 If there's a large choice of anything in the gardening world, it's gloves, and especially for women. I once stood in front of a large display and, really wanting to know, asked, "What are the different uses of all these gloves?"
The company rep's reply was masterful. "All these dozens of pairs mean women can choose their own style."
Huh?
Oh, pattern! Pattern was their only difference. I was about to question this superfluity of choice when I heard a squeal. "Oooh, strawberries! I love that strawberry print." And once again it hit me; as Husband explains occasionally, I'm not a proper girl.
Still, plethora of pattern aside, there are plenty to choose from, and as I've got small hands and have always struggled to find a really good fit,  as well as an all-round useful pair, I've spent the last couple of years testing out six different pairs.
Different construction
First, construction. Some are stitched together (which tends to be the way of thicker, thorn-proof types, often with the disadvantage of a bad fit); others are "dipped", made of a thinnish knitted base which is then dipped (mostly in Malaysia, it turns out) into a coating which covers the palms and fingers and at least part of the backs of the fingers (they usually fit more closely, but tend to be less protective). Although these also offer a degree of waterproofing, I find they make your hands sweat.
Gloves on Review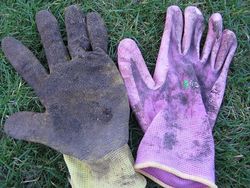 Joe's The Essential One and Joe's The Dexterous One
Joe's Garden launched with the idea that they would "redefine the use and purpose of gloves in the home and garden." (No, I don't, either.)
Joe Page, the founder, also said he was "concerned about how cluttered and confused the market place had become [well, he has a point there] and felt it was time customers were introduced to a brand that is clean, fresh and simple". Joe's consists of only 4 styles, each available in 3 sizes and distinguished by colour.
To be honest, I can't really tell much difference between the two I've tried. They're both of the "dipped" variety and The Dexterous One has a slightly smoother, thinner coating and washes off more easily.
The bright colours make them easy to spot, but the elasticated cuffs are too short to cover my watch, have loosened their grip and acquired an annoying tendency to roll inwards, making it difficult to pull down their full length. The coating doesn't reach much beyond the base of the nail on the back of the fingers, so you get damp quite quickly when dabbling in wet soil.
Fit: bit long in the ring and little fingers, bit short between thumb and forefinger.
Another "dipped" glove. I didn't expect much difference.
I was wrong.
These are dipped in natural rubber and employ MicroFinish ("The Intelligent Grip"). Whatever that is, it adds noticeable traction while pulling out weeds.  
They feel substantial but still communicate what's beneath your fingers. The longer elasticated wrist covers my watch with over an inch to spare and grips well one year on. There's still a tendency for it to roll under, but less so, and it's easier to unroll.  The coating covers more of the back of the fingers, so you keep drier.
Fit: bit long in ring and little finger but otherwise they were great, even at the join between thumb and forefinger.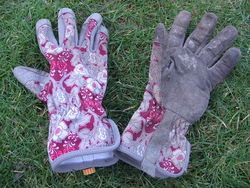 Ethel These are the girliest of all my pairs, their "Canterbury" pattern described ridiculously in their brochure as "intricately symbolic".  However, as well as having a wide array of pattern and colour, they are shaped especially for women.  
They're certainly well thought out. The elastic at the wrist is good and sturdy, still gripping two years later. They're made of breathable stretch fabric and synthetic "suede", the latter offering more protection for the palm and fingers than the Soft n Care, and wrapping round the back of the fingers to protect the tips.
My main beef is that they get soggy quickly in the wet. But in drier conditions, of all the gloves, I find these the most comfortable – a bit short between thumb and forefinger but otherwise the seams sit well between the fingers, all of which are a perfect length; they're stretchy, easy to work in, and reinforced in the right places.
NB Their website, which did have a useful downloadable sizing chart, has disappeared as Ethel seems to have been taken back into the fold by Mechanix.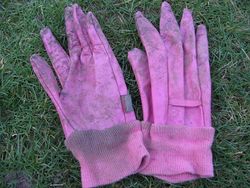 Town and Country Aquasure These are aimed at women, but for those with rather differently shaped hands from mine.
I find they're short in the finger, so the seams don't sit properly between the old digits, yet still manage to put empty space between the end of my fingers and the end of theirs.
The cuff is an elasticated knit which lost its elastication quite early on and now flaps around, letting soil inside. And, after a year (of not constant use), the stitching along the inside of the thumb went and the vinyl started pulling away from a forefinger's seams. As you'll spot, this rather compromises their raison d'etre.
However, my bright pink pair were certainly easy to spot when I took them and, despite the dodgy fit, I found myself using them a lot when the ground was wet as, intact, they certainly did keep me dry. They're the cheapest of the pairs, so I guess you can't expect everything. Their website has a sizing chart.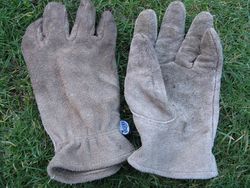 Briers Washable Gardener
These are the sturdiest I've tried. Of sueded leather, they're thick enough for me to don when I prune the blackberry.
They fit extremely well, fingers all the right length, sitting properly between thumb and forefinger. They only lack the extra stretch that makes the Ethel gloves so comfy.
The wrists are quite short but, being chunky, if they weren't they would interfere with clothing. Partial elastication over the back of the wrist helps the fit.
Washability
I don't normally wash gardening gloves, but in the interests of review, I tried. Ethel, Soft n Care and Briers Washable Leather all came up a treat on 40C in the washing machine: no shrinkage, still soft. Joe's gloves recommend cold wash only.
Which is the best gardening glove?
So which is my favourite? Well, horses for courses. It all depends on the job "in hand" (sorry).
If I have something prickly to deal with, the Briers handle it well and their good fit adds dexterity (unlike those one-size-fits-all leather gauntlet types that only fit where they touch).  Of all the gloves I've tried, these are the ones I would travel to find again.
For wet soil, the Aquasure served well, and they're cheap enough to buy more often, but I prefer Soft n Care, especially if I'm weeding, and am willing to suffer a bit of water ingress for them.
While I love the Ethel gloves, I often reach for something else more specific to the above conditions, and to be honest I'm not sure I'd rush out to buy another pair for that reason. But Ethel is better in summer when getting wet is less of a problem and the breathable fabric is a definite plus. 
I'd probably ask for these as a present.
Do read the comments below. Julianne at Gwenfars Garden has lots to say, including this comment:
My favourite glove for really tough tasks, dealing with thorns, brambles etc, is the Gold Leaf 'Tough Touch' glove, which I blogged about a couple of years ago http://www.gwenfarsgarden.info/2011/11/solving-thorny-problem.html. They are perfect for tough jobs and they fit my fingers well.
And Rita Rushmore tweeted:
@HelenGazeley Current fav - Master Gardener thermal lined, haven't split, are warm, thornproof, waterproof. Should 'dip' the whole glove.

— Rita Rushmore (@RitaRushmore) February 6, 2014
And thank to VP for drawing attention to her review of Ethel gloves a couple of years ago.
I'd love to hear what other gloves you think worth buying, so do leave any recommendations/observations below. If your comment doesn't appear immediately, then it's probably caught in the spam filter and I'll instate when I do my daily spam inspection. Or you can email me (address above, right) and I'll add your response here.
All the gloves reviewed here were given to me by the respective companies.