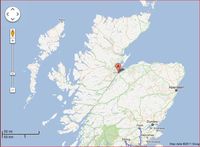 Do you think the weather's bad enough in your neck of the woods?  Spare a thought for Patrick Vickery who writes the hugely enjoyable Ramblingbloke, and gardens for a living forty miles past Inverness (good grief! So far north and not swimming!). Consequently he's on intimate terms with chilly conditions that would make most of us wake up in sweat.
Here's how Patrick described himself to me:
I am what is known as a 'jobbing' gardener, moving from garden to garden throughout the working week. I drive a battered Ford Mondeo and wear a woolly hat. I am one of those scruffy-looking guys whose car is crammed to the gunwales with all manner of garden tools and accessories.
I can average eight gardens a day throughout the summer months, sometimes more. A diary is essential. By late afternoon I have often forgotten where I was in the morning. Two hours in one place is my limit. Anymore than that and the boredom threshold is breached. Variety is the key – a different location, a different cake (I am offered many cakes – perk of the job).
I'm delighted to say that Patrick has taken time out to guest on Weeding the Web. When he moved from the clement climes of Hampshire 25 years ago he found, "The growing season is short and the winters long, making life a little precarious at times for full-time gardeners." But he's not dwelling on the weather.   
Continue reading "Strange life in the garden - or My Most Unforgettable Characters (with apologies to Readers' Digest)" »